NCIX.com: Sony In Ear Headphones Were $20 | Now $14 & Free Shipping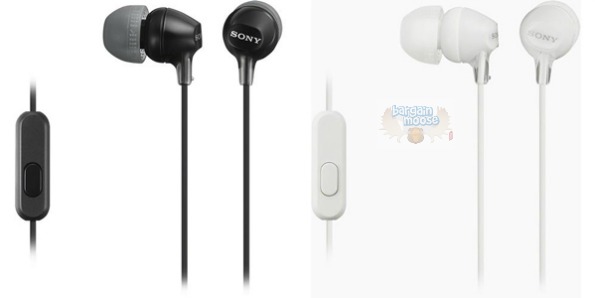 Sometimes you just need a decent pair of ear buds that are not going to cost you a fortune. NCIX.com has discounted the Sony in-ear Headphones from $19.99 down to $14 with free shipping.
This is close to the most basic ear buds that Sony Canada makes. They are perfect for pairing with your iPhone or iPod for listening to music on the bus. If you have broken or lost those pretty white ear buds that came with your iPod, then pick up a pair of these Sony in-ear headphones. They come in either white or black.
In price comparing, I found these the best price at NCIX: not only because the price was lower, but also because NCIX.com is offering free shipping on these ear buds where you would have to pay for shipping at any of these other retailers. Here is what other online electronics retailers are selling the Sony MDREX15APB and MDREX15APW ear buds for:
$19.99 @ Sony Store Canada
$17.99 @ Best Buy Canada
$18.56 @ Amazon Canada
As I mentioned above, you would then pay shipping on each of these competitor's prices listed.
Surprisingly, this cheap little pair of in-ear headphones actually gets great ratings. On Best Buy Canada, the black colour has a 4.1/5 rating with eight reviews. One reviewer said:
Honestly, these earbuds are what i look for every time I need a new pair. The neodymium drivers product crisp base and high treble, Absolutely recommended for watching movies on an iPhone or Android or Ipad. Sound volume is fantastic and zero distortion. Do not let the cheap price fool you. Let me say this: these sound better than the Bose Triport ( $ ...) or the AKG I also possess.
That is high praise from someone who seems to know what they are talking about. Another reviewer on Sony talked about how the earbuds are great for all ear sizes as they come with interchangeable buds - three sizes. I could also see the white pair matching your iPod so people do not need to know you lost your original Apple ear buds - or worse - they stopped working.
I think Sony builds solid products, which is why one of the main brands in my house is Sony. Televisions, wireless speakers, cameras, and more - they just seem to get things right.
(Expiry: Unknown)