NCIX.com: Mad Catz S.T.R.I.K.E. 3 PC Gaming Keyboard Was $100 | Now $39 & Free Shipping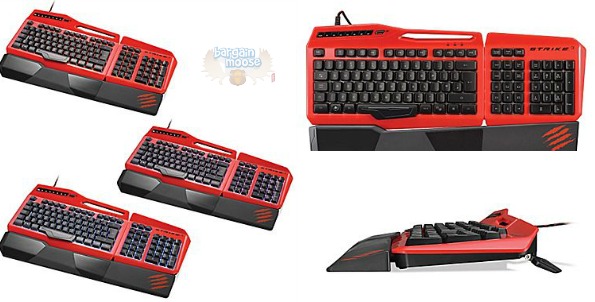 NCIX.com has a one-day deal on the Mad Catz S.T.R.I.K.E. 3 Gaming Keyboard. Originally $99.99, this keyboard is now on sale for $39 with free shipping.
It was easy to price compare this unit, even though it is not one of the mainstream computer companies. However, I often find the attention and care that goes into relatively minor companies' products rather worth attention. I did find this keyboard at Best Buy Canada - currently priced at $99.99. I also found the keyboard - via a marketplace seller - listed on Amazon Canada for $65 + $6 shipping. At Newegg.ca, the keyboard costs $99.99 + $7.99 shipping. Lastly, Staples Canada has the keyboard for $119.99.
Simply, you are getting one heck of a deal on this keyboard when you purchase it today. Not only are you avoiding shipping charges (while the keyboard is still in stock), you are also paying substantially less than at any other retailer. I mean substantially!
This keyboard is a fantastic entry-level keyboard for gamers. They Mad Catz keyboard has precise key response, customizable backlighting, and programmable macro keys. I know backlighting is just aesthetics, but I really love a custom backlit keyboard. It is fun to customize the setting for each game that you play and customize the settings for your regular computer.
This keyboard is for PC gamers and it attaches to your computer via USB cable: it is not wireless. The keyboard comes in red with black keys and also has a removable (black) wrist rest to help prevent typing fatigue.
I checked out a review on PCmag where they keyboard garnered a 3 1/2 out of 5 star review considering the price. Their bottom line was:
The Mad Catz S.T.R.I.K.E. 3 gaming keyboard is flashy, but it combines a competent design with several unique features.
You can read the full review on that website. In my opinion, this looks like a cool gaming keyboard and it is priced far better than most decent entry level gaming keyboards these days. You could easily spend this much on a normal keyboard! Check out this cool video going over the Mad Catz S.T.R.I.K.E. 3 keyboard:
They keyboard comes with a two year warranty.
(Expiry: 12th April 2015)