NCIX Canada: Steelseries World of Warcraft Gaming Mouse Was $130 | Now $50 & Free Shipping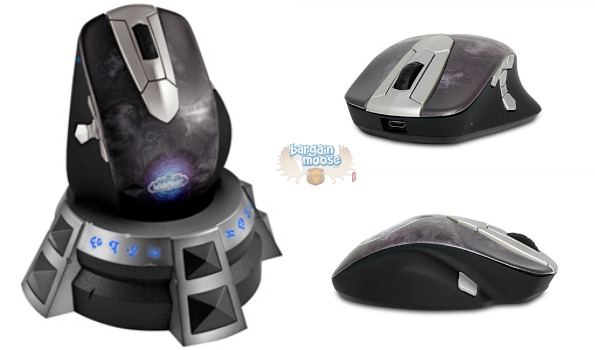 For all you gamers out there, I've got a great deal today from NCIX. get the Steelseries World of Warcraft wireless illumination MMO gaming mouse for $49.99 and free shipping, with a regular price of $129.99.
Sit back, get comfortable and be ready to game for hours with this wireless mouse. More than just a mouse with lots of fun technical features, this mouse is a thing of beauty and meant to look good even when you aren't playing with it.
I have to admit, I don't know anything about gaming or computer hardware like a gaming mouse, but I do know a deal when I see it. $80 off at NCIX is quite the steal on this item and I found that it was not even close to the $50 sale price at any other store.
At Staples, this mouse sells for a steep $134.99, which is actually higher than the regular price at NCIX. Amazon's got a lower price than that at $99.25, which is still far more expensive than the price at NCIX.
If you wanted more information about this mouse, you could also check out that Amazon link, which has much more written up about it than NCIX. For example, this mouse has a 16-hour battery life off the charger during intensive game play. You could possibly get even more if you were using it casually. If you are doing a marathon gaming session and the mouse does die, you can simply plug it in and use it wired. I love this and have a few items in my home that I wish I could do this with!
There are also 11 programmable buttons so you can use your mouse in the way that you want to use it.
I found a few reviews of this mouse on Amazon.com and this one is a good objective review:
Overall this is a very nice Warcraft licensed mouse. Die-hard World of Warcraft fans are sure to enjoy this mouse if they can stomach the asking price of $130. However, for such a high price point there are better options available under $80.
What's great about this review is that this mouse is now only $50, which means this mouse that was originally really great in the $100+ category is now the best option in the under $80 category.
(Expiry: 11th March 2015)