Naked Shop Canada: 25% Off Men's Underwear + Free Shipping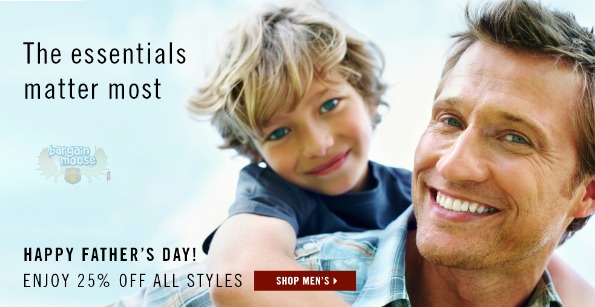 For Father's Day, enjoy 25% off all men's underwear at Naked Canada. You also will receive free shipping on any size of order.
Let us talk Naked. They are a company we have never posted about before so I hope our lovely Moosers take a few minutes to check them out. They not only make amazing men's underwear that is unquestionably comfortable, all their underwear is also made in Canada with performance European fabrics using Eco-friendly manufacturing processes. I think I can still count on one hand the number of companies I know who manufacture their clothing in Canada so I am always a huge fan whenever I run across a new one.
These underwear have been featured in Esquire and in Men'sHealth Magazine. They are also one of the very rare companies traded on the stock exchange: the Venture for anyone interested - which, if memory serves, is out of Vancouver. I have never heard of a lingerie company being publicly traded before: I was floored. My husband was practically giddy that our interests had finally collided.
I have also ready wonderful things about their underwear. Reviews from lingerie bloggers' husbands seem to be very positive and their delicates have never been happier. This Microfiber trunk is the perfect everyday underwear. They feature an invisible waistband and seamless, flat-lock stitching for the ultimate comfort. Originally $32, they come down to just $24 in your cart. While they have the standard black, white, and blue colour offerings, I also like the bright red options, which I would totally be buying my husband.
There are several styles and different fabric options available. The above is a microfiber trunk, whereas this cute little brief (totally my favourite style) is made of tencel. The Tencel Brief is so yummy: it has a form-optimizing shape, which shows off what he is packing. The fabric is not only wrinkle resistant and shrink resistant; it also absorbs moisture to help keep him comfortable and dry. This brief retails for $34 but after the discount comes down to just $25.50.
You can also buy fantastic undershirts for men during this offer as well.
Now, there is a 'women's section' but it has not been released yet. You can subscribe to be first to know about when they release this fantastic brand for women as well. I will most certainly be buying a pair for myself when that happens.
Happy Father's Day!
(Expiry: unknown)