Monster High Dolls Were $35 | Now $12 @ Walmart.ca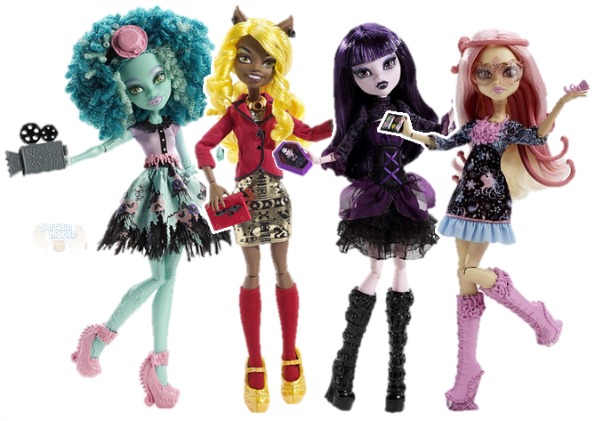 Four Monster High: Frights Camera Action Dolls are on sale for only $12 each, originally $34.94 each at Walmart Canada. They are part of the boxing week clearance that really has some very hot toy deals in it right now.
This is the cheapest I have seen any of the Monster High dolls now. I had posted earlier about a bunch on sale for $14.44, but this deal is even better than that. Choose from:
Clawdia Wolf
Elissabat
Honey Swamp
Viperine Gorgon
Price comparing these dolls I found Elissabat and Viperine for $29.99 @ Amazon Canada, Clawdia for $27.38 and only Honey Swamp on sale for $12 (3 left in stock). The same series of dolls but not the same girls are on sale for $22.99 at Toys R Us.
Each doll comes with something a little different inspired by the cinema. Viperine Gorgon has a color palette and makeup brush. Honey Swamp carries a video camera and a clapboard to catch all the action. Elissabat is the star of the show with her most recent DVD and an award statue as well. Clawdia Wolf is an aspiring screenwriter so she comes with a tablet and journal.
Whether you have a child who loves Monster Dolls or you are an adult collector, these are an affordable purchase. Personally, I am an adult who enjoys collecting cool things and I just adore the Elissabat doll. I have always had a fascination with vampires (pre-dates Twilight, FYI) and have various movie reiterations of Bram Stoker's Dracula. I asked my husband to buy it for me - but I think he thinks I am joking. Seriously, buy me this doll! I love the black and purple colour scheme and she totally matches the first corset I ever bought.
As another adult collector said:
I ordered Viperine because she was hard to find in store. I was very pleased with how quickly my order arrived, less than a week and it was well packed. She is my favorite of the group, I like the snakes in her hair and how she can hold her make up brush in her hand. Her color palette of pink, black and blue compliments her look. A great doll for collectors and kids no doubt :)
Each doll also comes with a signature-style brush, doll stand, and diary. The doll stand is a nice feature of the bundle as collectors will not have to go out and buy doll stands individually.
Receive free shipping on all orders.
(Expiry: Unknown)