Miraqueen Professional Curling Iron Was $170 | Now $60 & Free Shipping @ Amazon.ca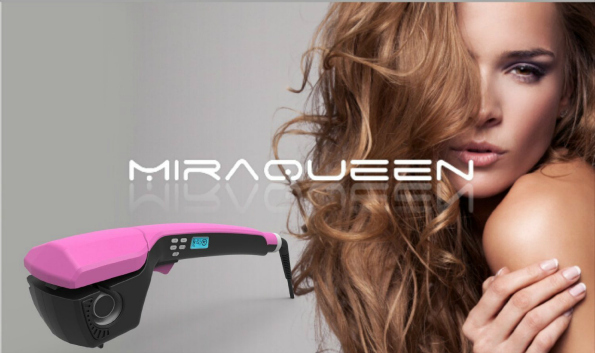 *Bump! This awesome hair tool is back on sale at this fabulous price!**
Auto hair curlers are really not ticket items when it comes to hair styling tools. I have been looking at a bunch of them these days as I want a curling iron for my hair. The Miraqueen Professional Curling Iron, Curling Wand, Hair Curler with Ceramic Curling Chamber (Black/Pink) is currently on sale from $169.99 down to $59.99 with free shipping from Amazon (though it is sold by a secondary seller).

People love this curling iron because it sets curls that last! The Miraqueen goes up to 450 degrees F to give you curls that stay while others fall away. There are three different heat levels and four timer settings as well. You control the heat so your hair comes out awesome every time. The LED screen displays your timer, temperature, and curl direction to give you the perfect curl. I like the idea of a 'curl direction' listed because I have never curled my hair below and wouldn't know what I was doing. I want a wand that gives me soft ringlets of hair and this would probably do the job.
I have what is called 'virgin' hair as I have never completely dyed my hair and I do not use flat irons. curling irons, or hair blow dryers either. I want a curling iron to give my hair a different look when styled at home, but I am worried about damaging my hair This curling iron uses ceramic technology to protects hair from damage.
I did some price comparing of my own to see if this was a good deal. I found the same curling iron on eBay Canada for $80. I could not find this curling iron anywhere else in Canada but similar models like the Proliss Auto Hair Curler from Proliss USA sells for $200 USD full price and would currently cost you $77.98 shipped at Groupon. Also, the Conair Infiniti Pro Curl Secret (similar unit) is currently on sale for $88.98 at Amazon.ca, which is still well above this price. What truly convinced me was that this curling iron in pink is currently the #1 best seller in curling irons on Amazon.
If anything goes wrong, the curling iron comes with a one-year warranty to back it up. You should SEE the comments on Amazon Canada about this curling iron. People LOVE it. It has a 4.8/5 star rating with over 280 reviews. The comments feature people raving about how awesome this unit is. Just check out this YouTube review to get an idea as to the power of this unit:
(Expiry: Unknown)