Microsoft Canada: Parrot Zik Wireless Headphones Were $450 | Now $230 & Free Shipping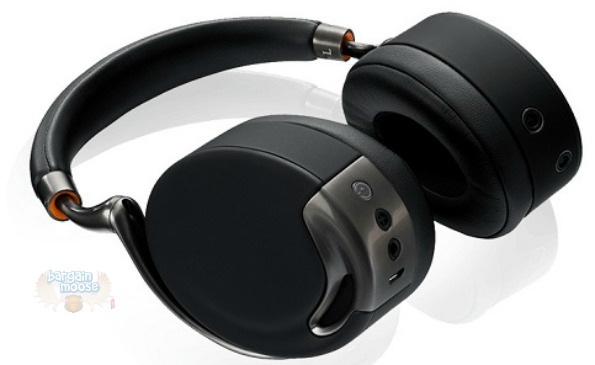 Oh my god - I just had a heart attack! The coveted (by me)Parrot Zik by Starck Wireless Headphones are on sale from $449.99 down to $229.99 with free shipping from Microsoft Canada.
I have wanted these headphones since they first came out. Not only do they look absolutely gorgeous in their black frame. The Parrot Zik are unlike anything else you have ever used. The earpiece is touch controlled. Slide your finger up or down on the right earpiece to raise or lower the volume. You can also slide your finger side to side to skip to the next track.
there is also a proximity locator built into the headset. The Parrot can tell when you take the headset off and it automatically pauses your music. This is a pretty cool feature as I sometimes forget to pause my music and then when I put my headset back on -  am several tracks down the list and have used up additional battery power playing music I was not listening to.
For true audiophiles, you can change the acoustics and sound space using Parrot's Audio Suite app from your smart phone or tablet.
Now, I assume the Parrot Zik is discounted deeply because the Parrot Zik 2.0 version was just released. This new version also makes it awfully hard to find the older version to price compare. However, I did find it at a few places:
$328.38 @ Amazon Canada (marketplace)
$329.99 + $11.99 shipping @ Newegg Canada
$429.99 + shipping @ NCIX.com
The cheapest price I could find on any website in Canada was $277.69 plus shipping. However, I did not know that website all too well to know if it was credible. Even so, Microsoft Canada is selling the Parrot Zik for less. In fact, the cheapest price i have ever seen before was this deal on a refurbished set for $240 that I blogged about before. Microsoft's price is officially the cheapest I have ever seen this headset.
The new Parrot Zik 2.0 headsets retail for $429.99 so I highly recommend the first version of this headset to save a bundle of money. They are not only aesthetically beautiful, but have great sound quality as well. One reviewer said:
These headphones have far surpassed my expectations. The sound quality is absolutely fantastic. Crisp clear sound in every range. It appears that the manufacturer spared no expense in the construction of these and the materials to build them. I am very impressed by the comfort of these as well. Several times I have forgotten that I was wearing them! If you enjoy and appreciate your music as much as I do I highly recommend these. You'll be as impressed as I am. I guarantee it.
I think I need to find room for $230 plus tax in my budget - I need to own a pair of these headphones!
(Expiry: unknown)