Microsoft Canada: 50% Off Surface Pro 128 GB - Now $499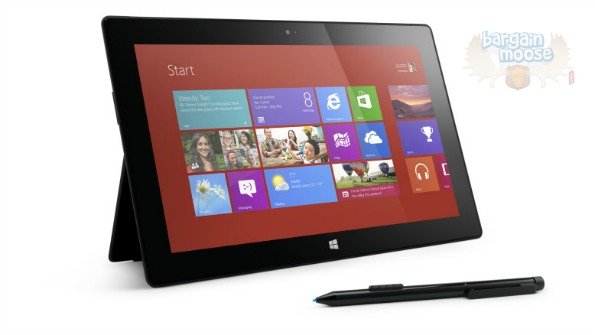 Microsoft Canada is offering the 128GB Surface Pro for only $499 which is $500 off the original retail price.
So, this tablet hasn't sold for its original price for a while. Most places had priced it around $650 for the last few months and then it went on sale at both Best Buy and Future Shop for $499.99. However, you can't buy it there because they are both SOLD OUT (that went quick). However, people seem to be ignoring the fact that Microsoft sells their own products and you can still buy the Surface Pro there for like 95 to 99 cents cheaper, and it is still in stock (for now).
What is so cool about this thing? It is a laptop in tablet form. Have you seen the ad with the awesome looking computer propped up on a kickstand and then they put it flat on the floor and draw on it? That is the Surface Pro. It combines the best of both worlds and changes the way you interact with your electronics. Here is what one enthusiastic reviewer said:
I've been using the surface pro for 2 weeks now without any problems. I am highly impressed with the design and capabilities of this tablet. This is a powerful machine and is unlike anything else on the market today. It's great for gaming as well as productivity, I highly recommend the type cover to transform it into a true laptop and tablet or as I like to call it .. "Tabtop". I love it, it's simply amazing and wipes the floor with ipads!
This is going to sell out extremely soon if Best Buy and Future Shop are any indication. If you want one, don't wait to buy it. If you are a student, you can save an extra 10% on the Surface.
Get free shipping on all orders.
(Expiry: 15th April 2014)