Men's Le Pullover Was $98 | Now $54 & Free Shipping @ Lululemon Canada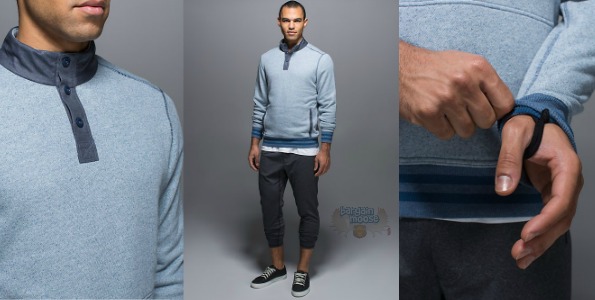 This pullover is perfect for your workout or just running errands on the weekend. Le Pullover men's shirt was $98, but you can grab it now for only $54. Lululemon also has completely free shipping with no minimum.
My guy has two layering options that are his regular go-to choices. He has a black fleece and a hoodie from our trip to the Smoky Mountains several years back. Neither of these layers is very breathable, so in the spring he often is either too warm or cold with those options. He needs something that is light, breathable and flexible.
If you need a light layer that gives you a little more ventilation for post workout, you should check out Le Pullover Men's shirt. This shirt has a look that is a mix of an athletic zip-up and a Henley shirt. This is in a light blue with a stretchy blue striped cuff and band on the bottom. This pullover also has a hidden media pocket to keep your music or your phone close. There are also thumb holes that tuck back into the pullover. Those thumb holes are there when you need them, but are hidden from the outside of the cuff when you do not need them. This shirt is made of soft terry that will be so comfortable that you will not want to take it off. This pullover is available in the following sizes:
Medium
Large
Extra Larger
Double Extra Large
There is only one review for this pullover, but the reviewer is very happy with the purchase. It sounds like this guy would live in this pullover if you let him.
LOVE LOVE LOVE this sweater, I am not a fan of zip-up sweaters so that is why I bought this one! It is just so comfortable, and warm. I almost wear it every day!
This reviewer makes me want to pick up this sweater. My husband could certainly use a lighter layer, and the style on this is hot. He could easily wear this for errands on the weekend for a much sleeker look than his current options. I also think he would like the ventilation this pullover would give him after a workout. This pullover has many features tucked into one shirt that will make it your new favourite. Grab yours now while they still have your size!
(Expiry: Unknown)