Mega Bloks - Halo UNSC Hornet vs. Covenant Vampire Was $75 | Now $65 & Free Shipping @ Walmart.ca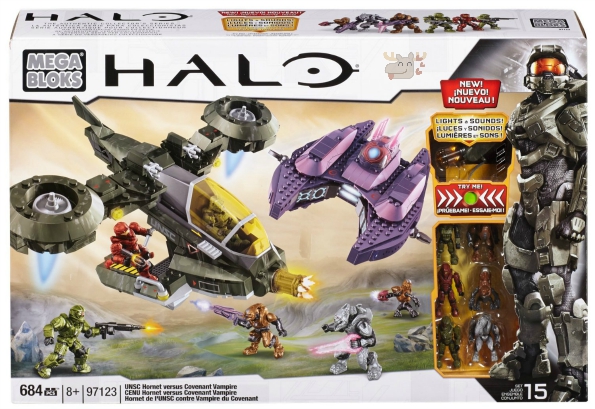 While this is not the most substantial discount in the world, Walmart is giving you the opportunity to get your hands on a rare toy with a high resale value. The Mega Bloks - Halo - UNSC Hornet vs. Covenant Vampire (97123) set is on sale from $74.93 down to $65 with free shipping. Enjoy 684 pieces of fun.
To truly understand the value of this set, you need to see a price comparison. The cheapest price on the Amazon Marketplace is $129.99 (not sold directly from Amazon anymore), and the cheapest price on eBay is $131.55 plus an outrageous amount of shipping costs. When Toys R Us did sell the Mega Bloks set (on eBay), they had it listed for $69.98 plus $8.97 shipping (sold out). Thus, I ventured to the USA to see if I could find the set cheaper. The Amazon.com marketplace has the toy for $70.04 USD plus shipping, which equals approximately $92 Canadian.
This set is sold out at all my local stores; therefore I would need to purchase it online. This is a great set for adults or kids who love assembling and playing with building block toys. This sophisticated set creates two vehicles: the UNSC Hornet and the Covenant Vampire.
This is the version with authentic lights and sounds for the UNSC Hornet. The UNSC Hornet has motion-activated lights and also many different authentic in-game sounds. You can hear the nose-mounted heavy autocannon, the Hornet turbines roar to life, and more.
The set comes with troops for both sides:
UNSC Troops:
Spartan in Recruit maroon
Spartan in Engineer green
Spartan in Soldier green
Covenant Troops:
Elite Storm in copper
Grunt Storm in copper
Elite Zealot in silver
Both of these ships are buildable so your child will have lots of fun putting together each of the detailed ships. To run the lights and sounds, two batteries should be included. This set is ideal for children 8 and up. Perhaps you have a Mega Bloks fan or a Halo fan that would enjoy this set. I have a friend (adult friend) who just loves building block sets - he collects them. This set is perfect for children and children at heart.
(Expiry: Unknown)