Meaningful Beauty Coupon Code: Free Shipping & Two Free Gifts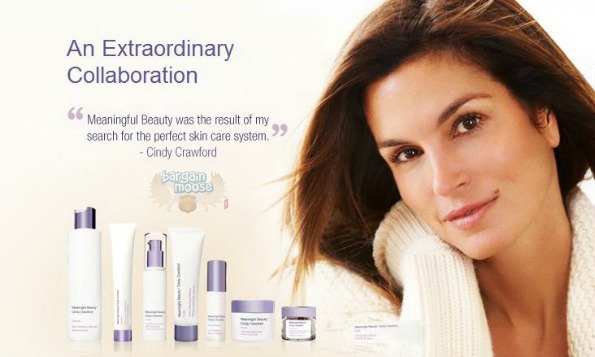 Meaningful Beauty Canada by Cindy Crawford is a beauty system designed by the talented celebrity. Like Proactiv, it is designed to be a monthly system that addresses all of your skin's needs to create perfectly healthy beautiful skin. With the following coupon, you will receive free shipping on your first order and two bonus gifts: a free Trial Sized Glowing Serum and a free Wrinkle Smoothing Capsules - Advanced Formula.
Click here to try Meaningful Beauty by Cindy Crawford now
Coupon Code: CINDY 123
Discount: free shipping and two free gifts
Expiry: Unknown
The coupon should automatically apply. You have your choice of the basic line, or the deluxe line. The basic line will cost $39.95 per month and includes:
Créme de Sèrum
Skin Softening Cleanser
Moisturizing Antioxidant Day Créme SPF 20 UVA/UVB
Firming Chest and Neck Créme
Lifting Eye Créme - Advanced Formula
You will also receive free shipping and your two bonus gifts. The deluxe system adds on two additional products:
Glowing Serum
Eye Enhancing Serum
The deluxe system costs $49.95 per month with free shipping on your first month. You will also receive your two free bonus gifts with this system. No matter which system you choose, you will receive free shipping and your two gifts.
When ordering for the first time, you have the option of ordering a one-month supply or a three-month supply. While the price for the product is the same whether you order one or three months at a time, you will pay less shipping and handling charges in the end.
With this coupon, you receive free shipping only on your first order. If you order one month, then you will pay shipping fees on your second, third, and so on months. However, if you choose a three-month supply, then you will receive free shipping for three months' worth of supplies, and then in three months if you continue your subscription, you will only pay shipping once for another three months' worth.
Shipping and handling is $12.99 regularly no matter which system you buy (one month or three month). Every Meaningful Beauty order also comes with our 60-day Money Back Guarantee, excluding shipping and handling fees. If you are not happy with the product, then tell them that within two months to get your money back. Because of this guarantee, this is only a $13 risk to you to try out a product that might really revolutionize your beauty routine.
For a full list of our coupon codes, visit the forum!