Mastermind Toys Canada: Free Shipping w/ No Minimum & Save $5 WUS $100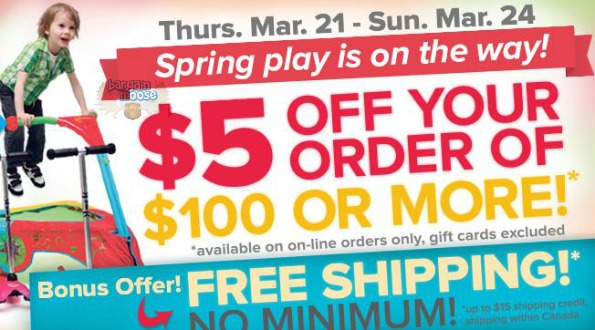 We have blogged about a few of the great toy deals happening right now at Mastermind Toys and now they have a great deal to go with them.  Get free shipping on all orders with no minimum charge.
This is an awesome deal since there is no minimum charge for the free shipping.  That means you can buy just one little item or a ton of items and you won't have to pay for shipping.  Normally, you would need to spend at least $60 to get free shipping.
I would be checking out some of their sales to pair these deals with:
The other great deal right now is that you will be able to save $5 on orders of $100 or more.  This is on all items including sale and regular priced items.  This deal will be available until March 24th, 2013.
(Free Shipping Expiry: Unknown)