Lululemon: Warrior Scarf Was $58 | Now $39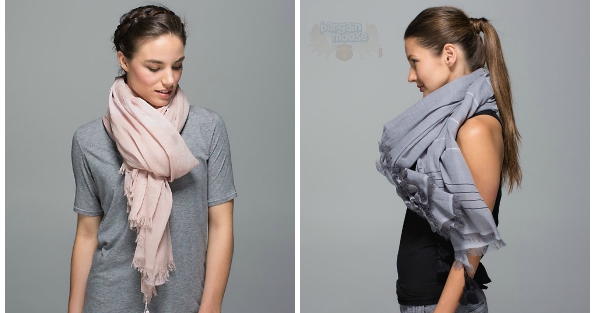 Lululemon products are insanely popular but not everyone fits onto their size range. This is why I like blogging Lululemon accessories: they fit everyone! Lululemon has discounted their generously sized Warrior Scarf from $58 down to $39 with free shipping.
There are two colour combinations to choose from: grain/white or black/slate/white. Both scarves are breezy, lightweight, and they are made of organic cotton.
I have to say, I was surprised to see organic cotton featured in this scarf as Lululemon is not known for using organic fabrics. However, the fact that thus scarf is made of organic cotton really makes the price that much better. Organic cotton is more expensive because it does not use pesticides or synthetic growth chemicals - thus the yield is lower and the cotton more valuable.
One reviewer gushed over this scarf:
I simply love this scarf! The pink colour is incredibly beautiful! I get so many compliments every time I wear it. It is large and soft and very versatile. I highly recommend this scarf and look forward to wearing it all summer (and in to the fall and winter...and spring...you get the picture) :-)
Just looking at this scarf in the pictures, it looks huge and really gorgeous. Lululemon suggests you hand wash the scarf in cold water and lay it flat to dry in order to maintain the weave.
Scarves like this are like your best friend. They go everywhere with you, they have multiple uses, and they are easy to get along with. This scarf can be used as a a) scarf b) shawl c) barrier between you and the grass d) baby wrap e) head covering f) the uses are endless.
My mother likes large scarves like these because they can cover her arms and her shoulders at the same time. I would take this scarf to the beach and use it as a light covering to keep the sun from burning me while not roasting under too many or too heavy of layers.
Overall, I think this is a great scarf and a nice buy for under $40 especially because it is made of organic cotton.
(Expiry: Unknown)