Lululemon Canada: Sun To Moon Scarf Was $68 | Now $39 & Free Shipping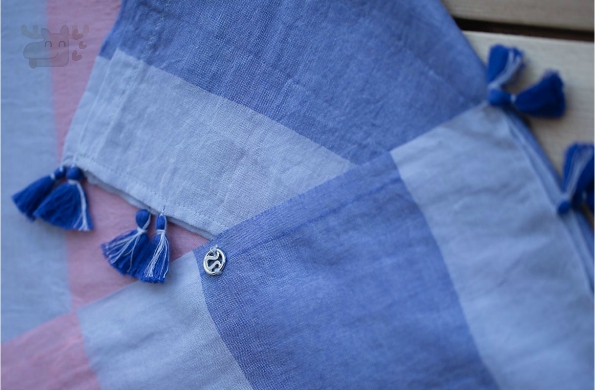 If you are looking for the perfect scarf, then cuddle up in the Sun to Moon Scarf from Lululemon Canada. This multi-purpose scarf is on sale from $68 down to $39 with free shipping. The scarf is currently available in two colour combinations: white/blue denim/silver fox and silver fox/stony grape/grapefruit.
First, you have got to love these colours. The colour combinations of the Sun to Moon Scarf are among my favourite with moody blues that remind me of different shades of moon light falling on the night. The white/blue denim/silver fox is pretty much a combination of gorgeous blues and whites. The silver fox/stony grape/grapefruit contrasts more with purples and even a little pastel pink. I cannot decide the colour combination that I like better.
This scarf is made of lightweight, breathable cotton fabric. It is a large scarf that can be worn a variety of ways. Try wearing it like a shawl around your shoulders or loop it around your neck. You can even wear it over your head if you need a little extra shade from the sun or protection from the blooming bug population. Drop us a line below to tell us how you style your scarves!
As with all cotton scarves, they recommend had washing this scarf and laying it to dry. This will keep the weave in good condition. I also suggest NOT using fabric softener with cotton as cotton is breathable.
I decided to post this deal also because the Warrior Scarf - which went on sale early this month - sold out so quickly. It wasn't quite as steeply discounted ($58 down to $39) so I figured this Sun to Moon Scarf deal would be a great one to share with our Moosers.
While I like slightly smaller scarves, my mother is a big fan of these big scarves. She loves wearing them outside around the campfire at night and wrapped around her shoulders for extra warmth during the day. These scarves are so versatile that you could even make a sarong with one. That is a cool idea as I plan to take up swimming again.
(Expiry: Unknown)