Lululemon Canada: Namaskar Hoodie Was $118 | Now $69 + Free Shipping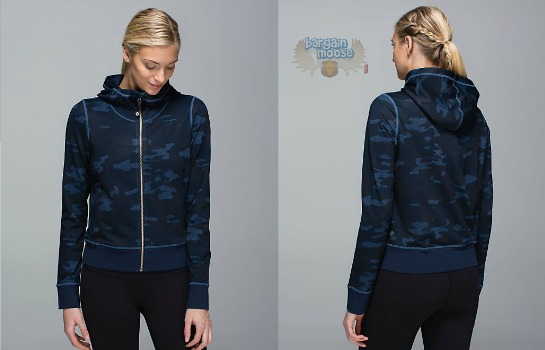 In the mix of Lululemon's We Made Too Much section is a great Namaskar hoodie that was $118 but now is only $69. Free shipping  is available for all orders @ Lululemon Canada with no minimum.
If you love Lululemon, you are going to love the great hoodie I found. Right now, you can score the Namaskar Hoodie that was $118 for only $69. This great hoodie comes in four different patterns, which I list and describe the patterns available below. The patterns include:
Animal Swirl Deep Coal Black/Black- A dark grey colour with a black cheetah print
Flower Parfait Pink Atomic Red- A cross between a red and a salmon colour, with a pretty flower motif
Heathered Texture Lotus Camo Oil Slick Blue/Inkwell- This is a dark blue colour with a lighter blue pattern that is similar to camo
Black- This needs no explanation!
This lightweight hoodie has slim fit arms designed to layer under winter coats. The sleeves have Lululemon's signature double cuffs with thumbholes to help keep the winter chills out.  The Luon fabric is breathable, wicks away sweat from your workout and stretches in four directions to allow a full range of mobility. This sweatshirt will keep you comfortable whether you are hitting the gym or hanging with your family. I am really digging the patterns available for this hoodie. Normally I would grab a basic black, but I can easily see myself wearing all four of the options for this hoodie.
The reviews overall on this hoodie are mixed. The overall item has an average of 3 and a half stars out of 5. From reading through the reviews, the jacket seems liked by many of the people who purchased it. In the back of the hoodie, the fabric bubbles out intentionally over the band.  Some reviewers like this cut and are digging it. Others reviewers who were perhaps expecting a completely form fitted hoodie were not digging the extra fabric in the back. Several reviewers have mentioned ordering a size down in order to get a more fitted look with this hoodie, and I suspect the slight bubble above the waistband on the back is part of the reason. Here is one reviewer's perspective: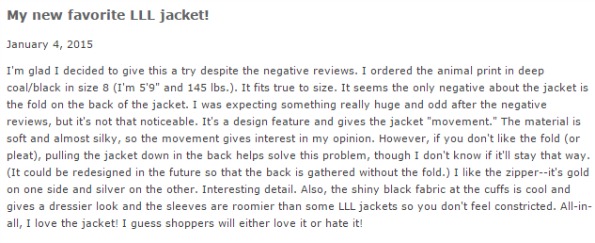 Free shipping is available every day at Lululemon Canada and this hoodie is no exception. With lots of colours and sizes to choose from, you are sure to find a version you like. Remember this item is final sale so choose your purchase and size carefully. Sale items at Lululemon can sell out quickly. If you want this hoodie, I suggest you grab it now while you still have choice of style and size. You should also check out the Cabin Yoga Wrap Eva posted if you love Lululemon.
(Expiry: Unknown)