Lululemon Canada: 46% Off Nice Asana Jacket (Now $69 | Was $128)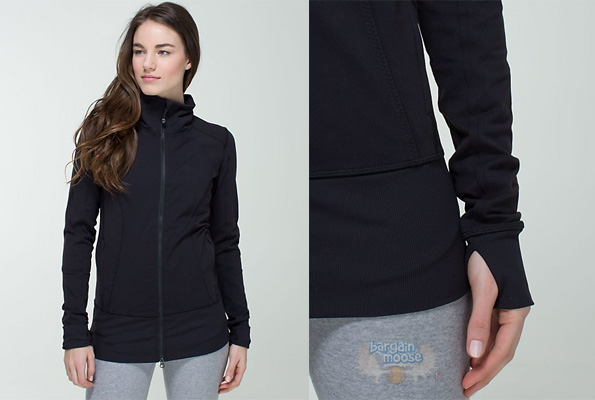 Get fit this summer and look good doing it this summer with the nice Asana jacket. It's currently on sale for just $69 at Lululemon, which is a 46% reduction from its original price of $128!
Click here to get the nice Asana jacket @ Lululemon.com now
Apart of Lululemon's "We Made Too Much Sale", this jacket is available in all sizes from 2 - 12 with the exception of 4. Judging by the many reviews, it's a jacket perfect for just about anyone, but especially well suited for taller women as it's longer and even has slightly longer sleeves than average. Here's what one reviewer had to say about it:
I am 6.1" and like Lulu in general because everything seems to run long. However, I will say that often the sleeves are often only long enough because of the extra length for the thumb holes. However, this jacket just arrived, and the sleeves are 2.5" longer than any other jacket I have. I can actually use the thumb holes without pulling on the sleeves!
Designed for yoga, this jacket is made from Lululemon's own signature fabric, which wicks away sweat all the while feeling extra soft on your skin.
Lately, I have been on a mega shopping spree for comfy clothes, especially pants and I'm extremely tempted to get the still pant II on sale for $49 (reg. $98). Tight on the bum and loose on the legs, they would be perfect for working out or even lounging around the house - probably more the latter than the former! :D
Having recently given birth, I have to say that I have been particularly shy about my fourth trimester tummy, which is exactly where the No Limits tank comes into play. On sale for $44 (reg. $64), it looks like it could effectively hide any extra weight as it's loose around the stomach area but tight on the waist/ bum. It also features a rather interesting design as it looks like a sports bra from the back and like a regular top from the front.
Even better is that you don't need to worry about any additional fees as Lululemon offers free shipping on all orders!
(Expiry: Unknown)