Lululemon: All Good Pullover Was $98 | Now $59 & Free Shipping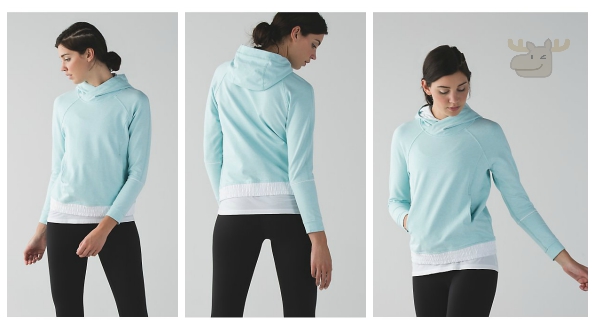 Lululemon has discounted their All Good Pullover from $98 down to $59 with free shipping. This loose-fitting sweatshirt is a great buy for the coming fall and winter weather.
The All Good Pullover is a new addition to the We Made to Much sale section, thus all sizes in all three sale colours are currently on stock: size 4 through size 12. There are three colours to choose from: heathered tranquil blue/white (my favourite), heathered hazy silver/silver spoon, and heathered white/silver spoon.
I think the tranquil blue is by far the best colour. It is sort of a mint blue if the pictures are correct and I love the white satin trim. All three colour combinations are made of stretch French terry fabric and come with a satin trim to add a little deluxe feel to your top.
Stretch terry and a loose fit will accommodate many different body sizes and shapes. The pullover is designed to hit at about hip length. Enjoy roomy pockets for your electronics or your hands and there is also a hidden media pocket for your cell phone. A roomy hood will give you protection from the elements and keep you all cosy and warm. I do wish that the hood was lined in satin - that would totally push me over the top.
One reviewer said:
I waited until I could get to a store to try it for myself... and I love it!!! I am 5'4" with an athletic-ish body type and went with my usual size 6 in Lulu. I would not want the sleeves and torso of the hoodie to be any shorter than they are, but they looked great to me!
I am 5'3, thus I think this hoodie will fit my body size really well. I am sort of excited that Lululemon has added satin to some of their garments and I hope the trend continues. I adore satin and it works so well as a luxurious accent on more practical clothing. I would wear this hoodie while traveling. I think it would be perfect for a road trip!
(Expiry: Unknown)