Lowes Canada: Lodge 12" Cast Iron Skillet Was $43 | Now $22.49 & Free Shipping (EXPIRED)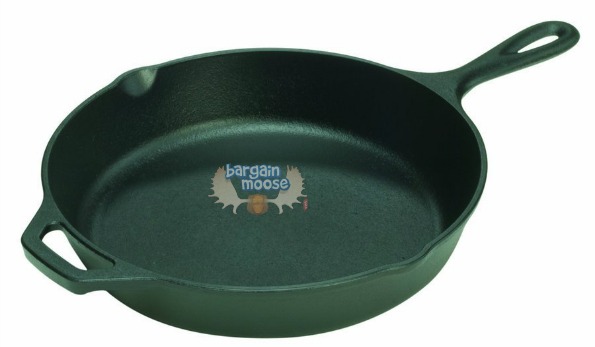 If you have been looking for the ultimate cooking tool - here it is at Lowes, on sale for $20 off. Get the Lodge 12" cast iron skillet for only $22.49, with a regular price of $42.98. You'll also get it shipped to you for free since Lowes has free parcel shipping with no minimum purchase right now.
While there might not be anything special about a cast iron skillet, I have to say I absolutely love mine. I use it to cook almost everything. I find it browns up meat and vegetables so nicely that my non-stick pans just can't compete. I can also put it right into the oven to finish cooking. This is a great feature for something like chicken that browns so nicely in the pan, but doesn't get done enough on the inside. I just take it from the burner to the oven and it gets cooked perfectly.
Not just meat and veggies, you can even cook desserts in this pan. Have you seen the recipe for the cast-iron cookie? It looks so amazing! This is also a workhorse to take camping with you.
Some people think that cast-iron pans require a lot of maintenance, but it really doesn't. You don't even truly need to wash it. Technically, you should just wipe it out, but I do actually wash mine as I am afraid of germs. It does start to show signs of wear when you put water in it, so you just need to grease it up again.
Just to show you what kind of deal this is, I shopped around and found quite a price difference. For example, the same pan is available at Hudson's Bay - for a whopping $64.99 plus shipping! The closest that I found in price was at Amazon, but this was on a smaller 8" model and believe, you want the larger pan. When you are cooking a few pieces of meat, you want some space between them or they start to steam a little bit, which means your crust will not be as crispy. At Amazon that smaller pan sells on sale for $25.48, which is still more than the Lowes price for the larger pan.
(Expiry:  Unknown)