Lowes.ca: Dainolite Lighting Work Station Desk Now $83 (Save $53)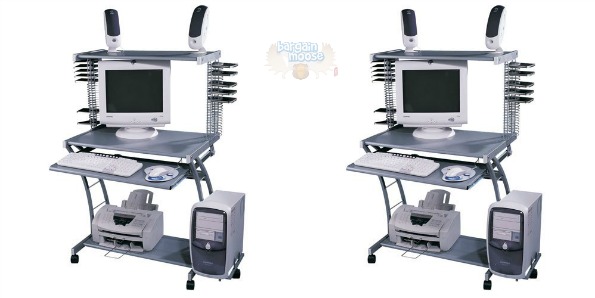 Lowe's Canada is selling this compact yet highly functional Dainolite Lighting Multi-Purpose Work Station Desk for only $82.89 including shipping. This is a great price for an all-metal desk that was $138.15 at Lowes.ca.
Let us do a little price comparing. First, this desk is not the easiest thing to find in Canada. I found it from a bunch of secondary sellers on Amazon.ca (for $228+) and I found it from Canada Lighting Experts for $228. I also looked at a few US stores and found it on Amazon.com for $137.16 and on Houzz for $228. Essentially, Lowe's price really kicks butt compared to both Canadian and USA retailers of this desk.
This desk really has some things going for it. It is all metal construction so when you assemble it there is no fear of wood splitting when you screw two pieces together (I have had that happen). The desk is also going to be durable as can be and will be easy to clean off all those coffee rings and Coca Cola spills.
For anyone who still collects CDs, it has two 27-unit CD racks, which can also double as blu-ray movie holders most likely (as long as they were not stingy on the width). The slots also function as multipurpose organizers that are only limited by your imagination.
The desk is easy to move into place or move to another room as it comes with five casters. When you have the desk in place, you can lock it down as two casters include a locking mechanism. There is a CPU stand for anyone who has a tower computer. It can be installed on either the right or the left hand side to better fit your space. Since I have a laptop, I would just leave that attachment off. Finally yet importantly, the keyboard pullout angle can be adjusted for more ergonomic typing.
I love that there is a shelf below the desk for your printer or shredder, and then there is an additional stand above the monitor area for papers, books, and whatever else you might need the extra space for. According to a reviewer, the desk will fit two 21" monitors, which is great. Both reviews on Lowe's give the desk a 5/5 star rating.
I think this deal is fabulous because the desk is way below the price of this desk anywhere else and it includes shipping all for just over $80. I really do not think you can do much better for such a complete metal desk.
(Expiry: 31st December 2014)