Lole Canada: Riley Headband Was $20 | Now $12 & Free Shipping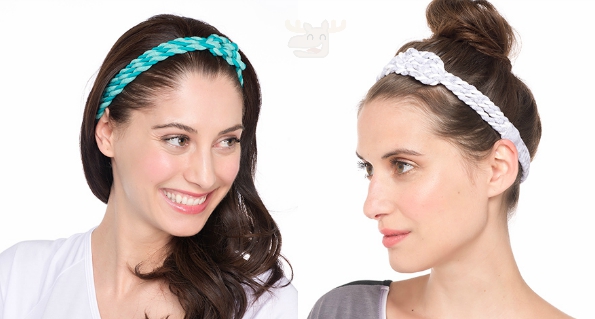 Lole Canada's sale section is full of great athletic clothing for women at nice discounts. I ran across this Riley Headband on sale from $20 down to just $12 with free shipping. I liked the design, the colour choices (four), the free shipping, and the price so I wanted to share this deal with you.
I bought a headband and then I promptly lost my headband. Seriously, I had it for like two days. Thankfully, I didn't pay too much for the headband so I can simply find and buy another one. I think my headband being all black has made it harder to find, so I am going to buy a more colourful headband next time. The Riley Headband comes in four colours: white, turquoise, campari, and oyster.
I like this headband for several reasons. First, this headband is substantial. It features three parallel braids that culminate in a knotted accent on the front-side. On the back, the braids enter a padded sheath that keeps your hair from getting caught in the braided fabric. The headband I bought for a similar price at Lululemon has an exposed braid that actually gets caught in my hair - or my hair gets caught in it. I wasn't impressed.
To further compare, the Lululemon braided headband I bought for around the same price only has one skinny braid, whereas the Lole headband has three braids. I found the small size of the Lululemon headband did not have the thickness I need to control my hair. The three braids provides comfort through weight distribution and also has a larger surface area to keep your hair band and under control. Honestly, it looks like Lole used three-times the amount of material than the material used to make my Lululemon headband (purchased for $9).
Lastly, if you care what products go into your clothing, this headband is made from recycled jersey, which is a four-way stretch blend of polyester and elastane. I love that the material is recycled as it makes less of an imprint on the environment.
(Expiry: unknown)