Little Burgundy: Men's Sorel 1964 T Boot was $160 | Now $80 & Free Shipping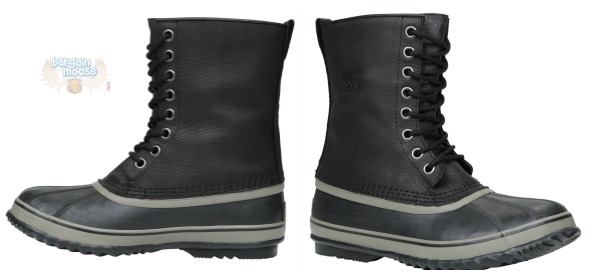 Little Burgundy is offering 50% off the Men's 1964 Premium T Boot by Sorel. Originally $160, the boot is on sale for $80. As the Sorel boots cost over $75, they qualify for free shipping to your home.
As I have mentioned before, Little Burgundy really likes to have fun naming things. These are called the McClatchey boot on Little Burgundy's website. However, I looked them up on Sorel's own website to find out their true name. These boots are the Men's 1964 Premium T Boot you can view on Sorel's website.
These boots are perfect for stomping through the mud and working in adverse conditions. They are seam-sealed and waterproof with a leather upper. This is a classic style for Sorel and I know it well as my father has owned several pairs of these boots over the years.  Inside, enjoy the comfort and convenience of the removable recycled felt liner. It will keep your feet dry and worm. However, if the liner does get wet, then you can pull it out and throw it either in the dryer or prop it over a heat vent (what we used to do) so it dries off. Removable liners make it easy to keep your boots clean both inside and out.
I price compared these boots with anyone else I could find in Canada who sells them. Sorel Footwear has the boots for $160. Gravity Pope also sells the boots for $160 while Shop.ca has the CVS version for $150.
Only the black boots are on sale (not the dark brown). Sizes 7, 8, 9, 10, and 11 are in stock so there is a good chance your size is available.
You could possibly get these boots for cheaper if you have never signed up for the Little Burgundy newsletter. When you sign up for the newsletter (for the first time), you will receive a coupon code for 10% off your order. That coupon can be used on sale items so these boots would come down to $72. That is just below the free shipping minimum so you may need to throw a little boot protectant into your cart to get back up to free shipping.
Be sure to check out the rest of the men's boots that are currently on sale for 50% off during this sale.
(Expiry: unknown)