Little Boys Argyle Sweater Was $27 | Now $9.50 & Free Shipping No Minimum @ The Children's Place Canada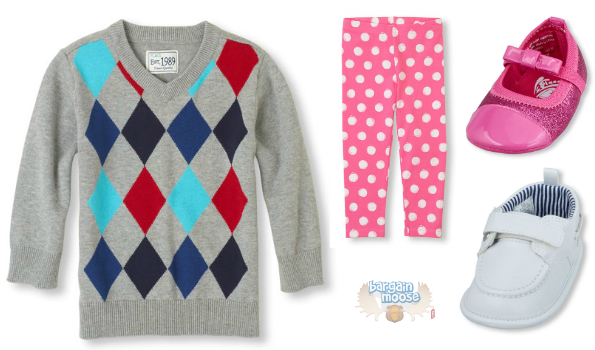 I love when The Children's Place offers free shipping. It is the perfect time to snap up kids clothes deals! Right now, you can grab this handsome Argyle Sweater for little boys that was $26.95, but is now only sale for only $9.50. Completely free shipping with no minimum sweetens this deal instead of paying the flat rate of $8 per order that they normally have. You are saving 65% off the original price!
I have a girl, but my friends with little boys are always lamenting the lack of style options for their little boys. Now is your chance to pick up a handsome lightweight sweater for your favourite little boy. He will look so stylish with this colourful argyle knit sweater available in both navy and grey. I would stash this cute sweater away for fall. I think my favourite part is the pattern brings a little colour into your boy's wardrobe. You can pick this sweater up in the following sizes:
Grey: 6-9 months, 9-12 months, 12-18 months, 18-24 months, 2T
Navy: 6-9 months, 9-12 months, 12-18 months
You may also want to check out the Boys Uniform Pullover Hoodie that was $26.95 but now is only $9.49. This staple item will keep your little one snuggly. You never know when you need a back-up sweater. Kids get messy! You can choose between navy and grey, and the sizing runs between 6-9 months and 4T.
I have featured leggings for girls at The Children's Place before because they are awesome. When you have an active little girl, you really cannot beat a pair of leggings as a staple in your kid's wardrobe. Check out the Full Length Printed Leggings. These were $14.95 but are now only $5.49. Choose between patterns such as rainbow and white stripes, purple with white polka dots, white with turquoise hearts or pink with white polka dots. I paired a similar pair of pink with white polka dots leggings with a heather grey sweater dress and it looked super cute on my daughter last winter. These leggings come in a variety of sizes for little ones who are between sizes 6-9 months and 4T. The selection varies based on the pattern.
Do not forget the accessories for girls! Check out the cute Mesh Bow Clips that were $4.95 but are now only $2. That is only $1 per bow! Choose between pink with a yellow ribbon and white with a blue ribbon. I can never have too many clips. We lose them all the time. For an older girl, pick up the Leopard Flower Headband that was $5.95 but is now only $2.50. Choose between pink, peach or white. That should match almost any outfit your kid can dream up.
Over in the babies section, I cannot take my eyes off the adorable shoes. For baby boys, check out the Li'l Boat Moc shoes in white. These shoes were $14.95 but you can snag them for only $6.99. Sizes 0-3, 3-6 and 6-12 months are available. Those shoes would be so precious at a birthday party or wedding. For girls, the Li'l Glitter Ballet Flat is equally adorable. These shoes were $14.95 but are now only $6.99. If I had a second girl, my preschooler would be thrilled to see her baby sister wearing sparkly shoes just like her.
Shop now folks, the free shipping is only available through tomorrow. The best items always are always snapped up quickly!
(Expiry: 17th June 2015)