Large Cup Lingerie (UK) Coupon Code: Free Shipping & 10% Discount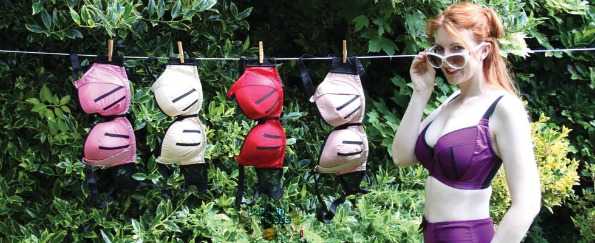 I am thrilled to be blogging about a 10% off coupon code from one of my international hotspots for lingerie. Large Cup Lingerie caters to women with fuller busts. I frequent their website for their fantastic deals and their free international shipping policy (a true lifesaver). Right now, they are offering an extra 10% off everything on their website. Guess who is going shopping?
Click here to shop @ Large Cup Lingerie (UK) now
Coupon Code: AUGBH10
Discount: 10% off
Expiry: Unknown
About three weeks ago, I purchased the Panache Swimwear Holly Underwired Balcony Bikini Top to go under some of my less-supportive swimwear. I know that buying lingerie and swimwear on the internet can be a bit scary (daunting, intimidating, etc.), but I know my measurements pretty well and I took into account the shape of the cups. Less than a week ago, the bikini top arrived. The fit was so perfect that I tried it on three times just to make sure I was not having a 'rose coloured glasses' moment. The swim top fit better than half my bras do. I was also thrilled at the price. Originally £31.00, the bra is on sale for £15.50. That is British pounds by the way, and a handy currency converter will tell you that it equals $28.09 CAD currently. After coupon code, your total comes down to just $25.28 CAD or there about with the currency exchange. That is it: no tax and no shipping costs. Mine came safely duty free as well. This swim top starts at a 38DD and goes up to 36K with many sizes still available.
There are other deals that are even better than this bikini top. Save a bundle on this Freya Swim Tootsie Soft Triangle Halter Neck Swimsuit that was £50.00 and is now £15.00. After coupon code the swimsuit comes down to £13.50 = $24.46 CAD. That is an impressive discount since the original swimsuit would have cost just over $90 CAD. The swimsuit is available in sizes 32DD, 32F, and 34DD.
On the lingerie side, I found this Parfait by Affinitas Lola Underwired Bustier Basque just begging for a new owner. Originally £44.00, it is now on sale for £13.20. After coupon code, pay just £11.88 = $21.53 CAN.
I have ordered from Large Cup Lingerie several times and been very pleased with my items and their customer service. While duties may apply, I haven't had them charged on any of my orders so far.