K'nex K-Force Mega Boom Building Set Was $55 | Now $30 & Free Shipping @ Amazon.ca (EXPIRED)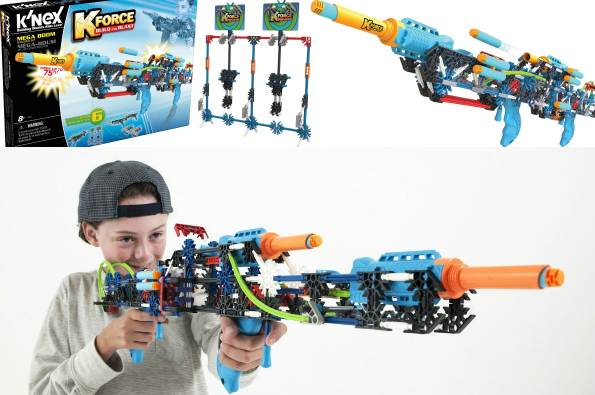 Is your child into Nerf shooters? I have a really cool - and fun - alternative to Nerf shooters today that will not only give your child something to shoot (comes with darts!), it will also let them build their own blaster(s)! The K'nex K-Force Mega Boom Building Set is a 335-piece build-your-own-shooter set that allows you to build six different blasters and target models from just this one set. Originally $54.99, this K'NEX set is on sale for $29.99 with free shipping at Amazon Canada.
The same set currently costs $49.93 @ Walmart and $49.99 @ Toys R Us Canada. This set is totally awesome because it combines two very different toys into one: a blaster that fires darts up to 75 feet away and a building set. Your kid can build up to six different style blasters that are then operational: they actually fire darts. Seven foam darts are included and they can fire far - up to 75 feet away! One reviewer said that he had never seen one of these nerf-like darts fly further or harder.
The kit comes with a two-blaster chamber and three skull dart holders. The manual comes with instructions to build one blaster and target - you can download the instructions for the five alternate blaster designs and buildable targets.
This set is for older kids - one reviewer said that her 10-year old got a little frustrated at first but - once he calmed down - managed to put one together by himself. Her 11-year-old had no problems and her 13-year-old looked at the instructions long enough to figure out the basics and then made up his own design. The pleasure of this toy is in building it, firing it, then building a new design and firing that one. With over 300-pieces, the price is pretty good too. :)
Most the reviews are on Amazon.com but it seems the majority of people are very happy with the set. Some say it is slightly complicated to build, which I take as a compliment because I hear all too often that something was too simple. Most people report taking at least three hours to assemble the set with some people taking as much as four or five. It sounds like a lot of entertainment for your $30.
(Expiry: Unknown)