Kate Hewko: Jewellery $10 & Up with $10 Coupon & Free Shipping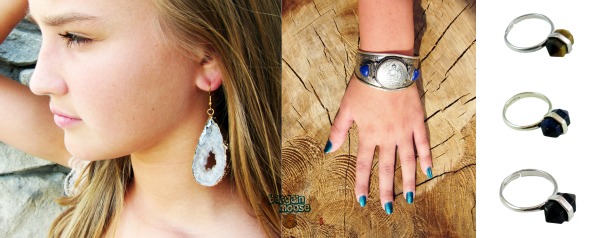 I thought I was done all my shopping after Cyber Monday but then Kate Hewko sent out this $10 off coupon code with no minimum required. With Kate Hewko's usual free shipping no minimum, this deal is just golden for those who love beautiful jewellery.
Click here to shop @ Kate Hewko Canada now
Coupon Code: GIFT10
Discount: $10 off
Expiry: unknown
You can use this coupon on smaller items to save a large percentage of the price. I was going back and forth over whether I should buy these Kate Hewko Armour Coin Earrings to match my necklace. When I saw this coupon, the decision was made and I just placed my order. Luckily I did, because that was the last pair! However, these Boho Armour Earrings are still in stock and the same price. Originally $45, they come down to just $35 with free shipping.
This coupon can be used on any deal in the sale section as well. This Raw Agate Statement Ring was $45 and is on sale for $30 currently. After coupon code, the ring comes down to $20. There are several rings around this price range that will make bold statement pieces for your hand. As the ring is adjustable, there is no need to worry about purchasing the right size.
This pair of Agate Druzy Earrings would be next on my list of purchases. Originally $75, they are now on sale for $45. After coupon code, purchase these amazing earrings for just $35.
For those on a tight budget, the Stone Stud Ring is the way to go. The stone comes in your choice of Tiger Eye, Onyx, or Lapis Lazuli. Originally $45 each, they are now on sale for $20. After coupon code, they come down to $10 each with free shipping.
I love Kate Hewko's jewellery as she uses unusual materials like Turkish coins and pewter or natural stones to creature her jewellery. The pieces are unique and breathe taking. I also feel like I own a piece almost no one else in the world will ever have because it is from a small boutique. My husband bought me a necklace from her for my graduation and I love it so much, it may now be my favourite! I hope you enjoy her creations as much as I do.
For this and any future Kate Hewko coupon codes, visit our forum.