Jurassic World Twin Sheet Set Only $25 & Free Shipping @ eBay Canada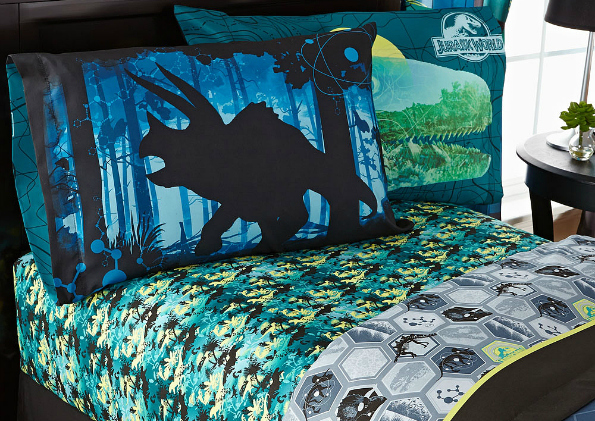 I was perusing fun deals at the Toys R Us Outlet on eBay when I came across this sweet deal inspired by Jurassic World. The Jurassic World Twin Sheet Set is on sale from $31.99 down to $25.57 with free shipping. Out of all the Jurassic World sheet sets I have seen, this one looks the nicest and is a great little buy if your kid is head over heels for dinosaurs.
This sheet sets comes with a flat sheet, a fitted sheet, and a single pillow case. The pillow case looks to be reversible for two different 'looks' though I really like the big dino they are showing above. You can see on the inside of the pillowcase (dino one) the pattern that matches the outside of the other pillow case - this is why I think it is reversible! I love when you get two looks in one. 
The colours for this set are fierce! I love the blue black, and green combo with yellow highlights. Really, this set is gender neutral so perfect for any kid - or adult with a single bed - who loves dinosaurs. With the relatively recent release of Jurassic World, I figure that a whole bunch of kids would be back in a dinosaur-crazy stage.
I have not yet seen Jurassic World, so I would appreciate recommendations! Is it as good as the original? Do you think it is worth buying?
I did a little looking around and - of course - found the same sheet set at Toys R Us Canada. However, you are far better off buying this deal on eBay as you get free shipping here instead of paying $9.95 for shipping at Toys R Us. I also found a different Jurassic World sheet set (twin) at Walmart Canada for $29.94. It was a bit plain - greys and blues without the great big dinosaur on the pillowcase. In my opinion, this set is far nicer and it is also cheaper - especially with the free shipping.
There is a limited quantity available - who knows how many that actually will be.
(Expiry: Unknown)