Jacob.ca Coupon Code: Free Shipping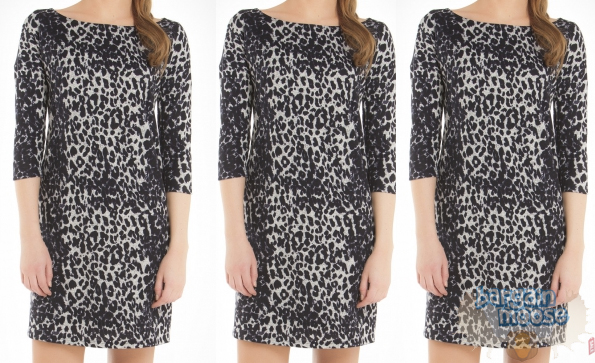 If any lady Bargainmoosers are partial to the Jacob clothing range, you'll be pleased to hear that they've got a coupon code out this weekend which gives you free shipping on any item on the Jacob.ca online store. Here are the details:
Click here to use the Jacob coupon code online now
Coupon Code: HELLOFALL (EXPIRED)
Discount: Free shipping
Expires: 21st September 2014
Under normal conditions, you need to spend $100 on Jacob.ca in order to get free shipping. With the coupon code above, it's a good excuse to have a browse and pick out some of the lower-value items that you might want delivered to your home for free.
And when you find a good coupon code, where does a good Bargainmooser look first? The clearance section of course! Now, availability of items in the clearance section is quite limited, so you may have to do a bit of hunting around to find items in your size.
I was actually going to make this blog post a feature about this Jacob 3/4 sleeve leopard-print dress (pictured above) which was $99.90 and is now down to only $17 with free shipping, as mentioned with the coupon code above. However, the only size left is large, so availability is quite limited on that one. It's a super price though, so if it happens to be in your size, grab one before they sell out.
These colour-block elastic wide belts are a really great price – down from $39 to only $2.54! The white or the blue is available, and in a decent variety of sizes too.
I nipped over to the t-shirt section to see what was there, and there are a lot of items to choose from. This Floral lace sleeveless T-shirt caught my eye, because of the outstanding colour. I love this shade of green. And this particular t-shirt is down from $39.90 to only $16.96 too, that's a nice deal. Another choice of line would be this Striped T-shirt with petite bow, also down to $16.96. It's plain but quite pretty.
Have you ever bought from Jacob.ca before? If not, you can claim a $20 off a $100 spend for signing up to their email newsletters. However, it's not likely that you can stack that offer with the above free shipping coupon code, so you're best making a decision as to which offer will get you the most discount on what you want to buy.