Jabra Solemate Mini Bluetooth Speaker Was $86 | Now $46 & Free Shipping @ Dell Canada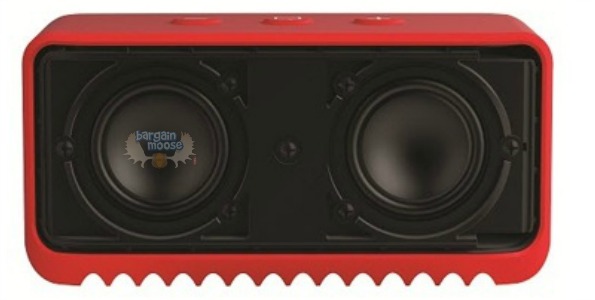 Grab this stylish little speaker for a present, or all for your own. This speaker was $85.99, but is now only $45.99 @ Dell Canada. Free shipping is included in this deal, making it even sweeter.
I first saw this little speaker when Avigayil blogged about it about a month ago. During that deal, I picked one up for my brother. I am happy to report two notable things since that blog entry. First, my brother loves this speaker and he is incredibly hard to buy gifts for. Secondly, I managed to find it at even a better price today so you can grab your own at an even better deal if you missed it.
This little speaker is both portable and powerful. It is a slightly different deal as the speaker on sale today is the red version and not the black one, as was on sale previously. That bright colour makes it both a great gift, and easier to find in your bag when you are on the go.  The Bluetooth has a wide range, playing music, movies, and anything else you choose at a distance of up to 33 feet. This speaker should give you about eight hours of music playing time. You can also leave it in standby for up to 90 days, which means you are not constantly recharging this speaker. Speakers like this are also perfect for video calls if you Facetime or Skype with a mobile device or tablet. I find the sound on this speaker is much better than what my brother's iPad can broadcast, plus it has an integrated microphone. My brother has become the DJ for his after school club with this speaker and my gifted collection of a copy of my 90's and 2000s rock mp3s. Like most teenagers, he really cranks up this speaker but at least he has good taste in music!
Check out the price variation elsewhere. Microsoft is the leader of the pack, but Dell has them beat today on price.
I have not seen many reviews of this product. Over at Amazon Canada, there are a few reviews praising the sound quality. From using this speaker personally, you are getting an awesome deal. If you have been looking for a small speaker with great sound, this is a sure bet. This price does not last long, so I would order now before the price goes back up.
(Expiry: 28th April 2015)