J. Crew: Mohair Cardigan Was $102.50 | Now $27.59 US & Free Shipping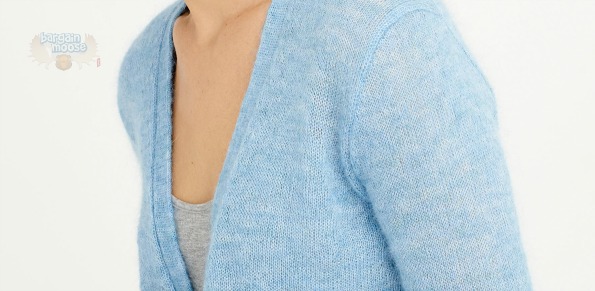 How I LOVE great deals especially on clothing. While I really should not buy any more clothing until I start to purge my own ample collection, this Mohair cardigan from J. Crew is calling my name! Originally $102.50, it is now on sale for $45.99. After you use the coupon code JINGLE it comes down to $27.59 US with free shipping!
I am really excited about this deal for so many reasons. First of all, mohair is an extremely soft and lightweight material. I bought a scarf made of mohair in Iceland and it is warmth without the weight. I also love how fuzzy it is - but beware a little shedding.
Next, cardigans are fantastic for winter. I do not even own a cardigan, which is what makes me want to buy this deal even more. I am in desperate need of a cardigan to layer over my other shirts to help keep me warm. I would go for a fairly neutral colour, like the mushroom, but you can also buy the cardigan in lavender, blush, or river. Those colours translate over to brown, purple, pink, and blue respectively.
I also appreciate J. Crew's ample sizing. Cardigans start at size XX-small and go up to size X-large for women of all different sizes.
This cardigan is such a good deal with the extra 40% off and free shipping to Canada thanks to the coupon code. In addition, there is no need to worry about extra fees on J. Crew items as they say in their shipping information:
Taxes will be included in your order total. No additional duties will be applied at checkout or upon delivery.
Your package will come duty free.

Reviewers are pretty torn on the cardigan. While they love the cardigan overall, they find the material rather itchy. I highly recommend washing this garment before wearing it and using a good fabric softener! That should help bring down the itchiness. I know that you are never supposed to wear an item before washing it, but I am a terrible at following through.
The coupon code JINGLE can be used on other items as well. The promo code will give you 30% off regular-priced styles and an extra 40% off sale winter-styles.
All prices are in USD.
(Expiry: 18th December 2014)