J. Crew Factory: Up to 80% Off Lightweight Scarves - Only $11.69 USD & Free Shipping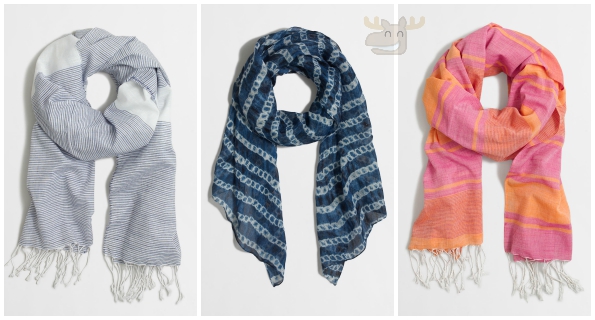 J.Crew Factory has a sweet selection of sale scarves right now. Scarves that were $45.50 to $56.50 are now discounted to just $17.99 each. Use coupon code SALEUPGRADE today only for an extra 35% off your order plus free shipping ($9.95 value). Each lightweight scarf comes down to just $11.69 with free shipping. All prices listed are in USD so $11.69 USD is equal to about $15.52 CAD.
The best deal is on the Factory long lightweight scarf that was $56.50 and will only cost you $11.69 after coupon. This scarf comes in the best colours in my opinion: pink orange stripe, violet stripe, and fuchsia blue stripe. Honestly, I would have difficulty choosing between the last two as they are so pretty. At 80% off their stated value, you just cannot go wrong with one of these beauties. One reviewer said:
I couldn't decide on which color combination to choose, so I splurged on all three. They are quite beautiful and will add real pop to my summer jackets. They are quite wide, however, which gives them more of a shawl quality than a scarf, although the shawl look would work for late afternoon with summer dresses. I am dividing them lenghwise to keep the scarf effect, and they will get constant use over the summer months.
Next, the Factory printed long lightweight scarf is a hit for those who like florals. For bold florals, pick up the blue and for subtle florals you should go for the white. These long scarves measure around 71 - 78" long so they are quite substantial. You really are getting a lot of material for the price.
Lastly, the Factory printed long lightweight scarf #2 comes in three patterns but only one is discounted to $17.99, which will then become $11.69 after coupon. Make sure to choose indigo tie dye for your scarf colour to get the best deal on this scarf.
Between the three scarves, you can choose from six different patterns/colour combinations. Given this variety, excellent price, and free shipping... I think this is a great sale. I have listed most the prices in USD currency as the Canadian equivalent will fluctuate with the daily fluctuations of the dollar. However, I did give you an approximate so you can see these scarves are pretty reasonable in our currency as well.
(Expiry: 22nd September 2015)