Hudson's Bay Canada: Tickle Toes Baby Shoes Were $20 | Now $14 & Free Shipping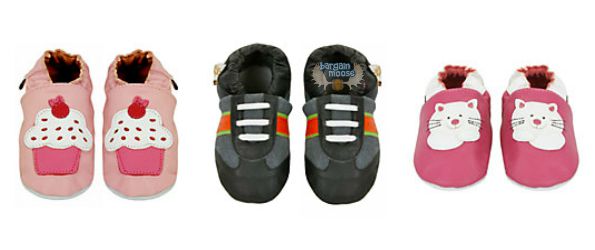 If you love Robeez, but not the $20+ price tag, I found a great alternative at Hudson's Bay. Tickle Toes are soft leather shoes for babies and toddlers that are regularly $20 (as compared to Robeez at $28 and up), but I found them on sale for only $14. Right now Hudson's Bay also has free shipping on all kid's clothing and shoes, so these will also ship for free.
Being a budget-conscious mama, with a want for my kids to look stylish, I did fall down the Robeez trap door. But, I only had one pair for each child and even wore them a little big before they could walk. With Tickle Toes, I can get a few pairs for each different size group.
These slippers are 100% leather with a suede slip-resistant sole for the new walkers. There are two styles on sale for the $14 price, one for boys and one for girls.
The girls can enjoy these pink and white cat slippers, which are very, very cute. I can imagine a baby bringing their feet right up to their face to look at the smiling kitties. There is one review that says that the person's granddaughter loves her kitty slippers.
The boys pair is striped and I think they look a little fancy too. Reading the reviews, the reviewer likes the style and how breathable they are, but thinks the elastic is too tight. She did mention her little man is on the chubby side. I had a very chubby baby (28lbs at his first birthday!) and I found Robeez were tight on his fat feet too. But, he didn't complain or try to get them off so with the right socks, I think these should be ok.
Checking out the Tickle Toes site, the cheapest they sell their shoes is $16, with free shipping on $50.
If you want more styles, they are available from Hudson's Bay at the regular price of $20, which I still think is low, in various sizes.
(Expiry: Unknown)