HS Sweden: Free Shipping & Exclusive 15% Off Coupon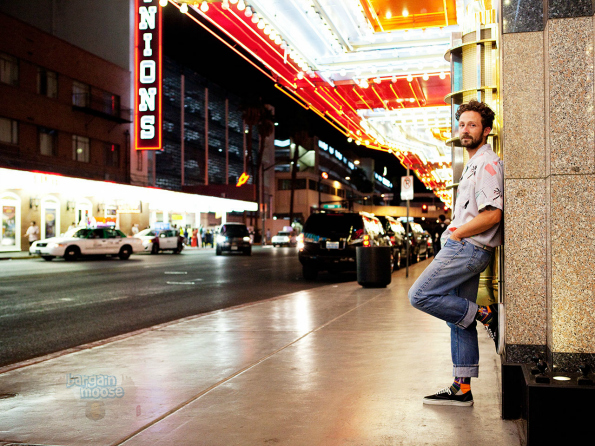 HS Sweden is offering free shipping with no minimum right now. Combine this deal with our exclusive coupon BargainMoose_HS_Sweden for an extra 15% off your order or regular priced and sale products.
I am tickled pink at this combination of deals. You can use our coupon code on anything except limited edition socks. Receive an extra 15% off underwear, socks, and tights. I suggest hitting up the sale section to save up to 30% on socks plus an extra 15% off with our exclusive code. Here is how this coupon looks when stacked on top of sale socks: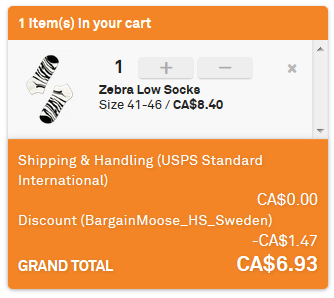 The Zebra low socks originally retailed for $12, so you are getting a great deal on them at $6.93 with this combination of deals. You would also receive free shipping on as low as one pair of socks. I picked out the low socks because they are perfect for wearing with summer shoes. I find taller socks a bit bulky in the summer. With my summer oxfords and my ankle boots, I really prefer wearing ankle socks.
I am most excited about HS Sweden's new athletic socks. I own one (1) pair of these socks and they are the most comfortable socks I own. They are always first into my laundry basket and then I bemoan them being dirty for weeks on end. I highly recommend this line of socks... even though they are not on sale. I picked out the Athletic Bog Dot Sock for $13. These socks come down to $10.73 after coupon with free shipping.
Perhaps you like a tall sock for summer. You may pair them with a cute mini skirt and a flowing blouse. The Over the Knee Big Dot socks were $22 and are now on sale for $15.40. After coupon code, they come down to $13.09.
Now, you cannot combine our coupon code with the 5 for 4 or 10 for 8 promotion at HS Sweden. This promotion gives you five pairs of socks for the price of four or ten pairs of socks for the price of eight. However, they all have to be regular priced socks (not sale) with no coupon. If you are buying 10 pairs of regular priced socks, this is the better deal by a few dollars.
When you combine the sale socks with the 15% off coupon and the free shipping promotion, you can really get a great deal. I am going to stock up on ankle socks now.
(Expiry: 10th May 2015)