Home Depot Canada: Makita 3 Pocket Pouch Only $16 + Free Shipping (Was $35)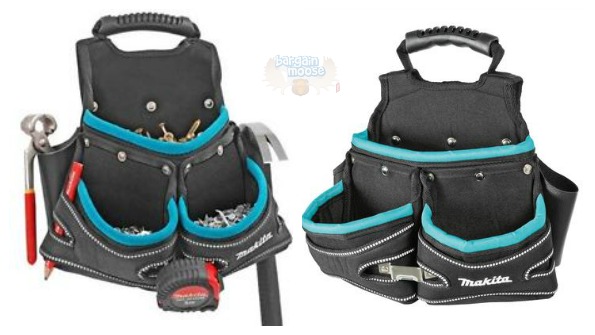 Pick up this handy Makita Three Pocket Fixings Pouch from The Home Depot Canada for only $15.95 with free shipping, originally $34.95.
This three-pocket pouch is perfect for both professions and those doing upkeep around the house. The three deep pockets fit nails, screws, bolts, fasteners, fixings, and miscellaneous tools like small measuring tapes or a pencil and eraser. The material on these pouches is super thick: it is made to stand the wear and tear of professional use and will most certainly stand up to the test of time.
The belt also features two long tool slots that fit screwdrivers, hammers, knives, pliers and other hand tools. There is a metal clip, which accepts standard size tape measures. This case has a bonus feature i am not use to on these pouches: a rubber handle for ease of transportation. Now, usually you would just slip this pouch system onto your belt and away you go. However, if you don't want to carry this pouch with you at all times, then the carrying handle is lets you easily transport the pouch with you without needing to attach it to your belt.
This tool belt/pouch system will fit on most standard sized belts. I suggest a good thick leather belt that can handle the weight of whatever you load your belt up with. My father is a journeyman carpenter so I am very familiar with these pouches; I have even worn one myself.
The pouch has a great review from one happy customer:
My husband has had his Makita work belt for over 5 years and has only had to replace the pockets twice in that time. He has mentioned over and over again that this pocket is amazing and hopes they will still be available the next time they need to be replaced.
Even if you are not a carpenter, these pouches are very useful. If you are doing odd jobs around the house or hanging pictures, you can have your tape measure, your hammer, and your nails all within arm's reach without having to search for where you put one of them down. Usually I dump an eraser and pencil into one of the pouches for marking my distances. This could also be used as a gardening pouch: a couple hand tools can go into the tool slots and seeds can go in your pouches.
Right now Home Depot is offering free shipping on most items that weight under 100 lbs and this pouch qualifies.
(Expiry: Unknown)