Henry's Canada: Panasonic Lumix FZ200 Was $530 | Now $400 & Free Shipping (EXPIRED)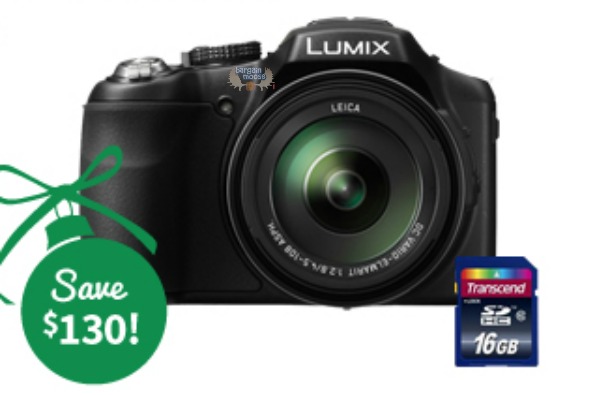 There are quite a few stores out there having days of deals sales in anticipation of the Christmas rush. Henry's is one of those stores and today's deal is sweet! Get $153.02 off the Panasonic FZ200 12MP camera with a 16 GB card. Originally $553.01, and now $399.99, you'll also get free shipping.
If you've got someone's wish list and on it is a new camera, this is an inexpensive way to fulfill that wish. My son wants a camera, although I think he is just a tad too young for it. I think he would treat it nicely, but I worry about his brothers fooling around with it if he doesn't put it away. I may reconsider later today and hope the deal is still on, as this is the right price point that I'd like to spend on his gift.
I can let you know all the nitty gritty about this camera, which includes 12.1MP, 12GB SDHC card, 24x optical zoom, 12fps burst rate, full 1080/60p HD video and F2.8 aperture across entire zoom range.
If none of that really means anything to you, you can check out some of the reviews, I found on Amazon:
This camera is just as advertised ! Takes fantastic photos with virtually no lag time. My husband loves his Xmas gift!

This model has a nice long lens and is relatively light.
Of course I also shopped around, to ensure that this is the best deal out there and found that it was. Amazon sells this camera for $523; Vistek sells it for $529 and London Drugs sells it for $529.
I bought my newest camera from Henry's and found the customer service to be great. I actually have to take mine back in as it is having a few issues, but that could be user error. I'm hoping the Henry's associates will help me out.
I wouldn't wait too long, as there are limited amounts of this camera available.
(Expiry: 9th December 2014)