Hamilton Beach Power Elite Blender Was $67 | Now $30 & Free Shipping @ Amazon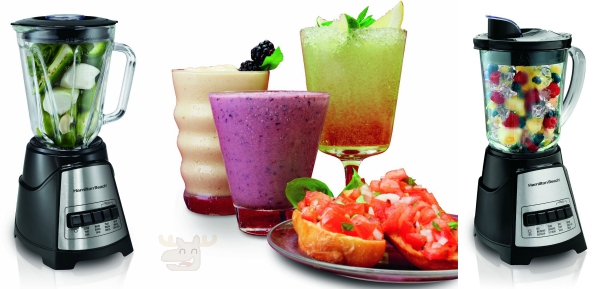 Amazon Canada has discounted this Hamilton Beach 58148 Power Elite Multi-Function Blender from $67.52 down to only $29.99 with free shipping. If you are in the market for a new mechanism to blend goods, then this power blender is a great buy.
This blender is the perfect middle ground blender if you want the power of a performance blender yet the price of a basic blender. It features 700-watt of peak blending power and 12 blending functions. The blender uses wave-action to draw all the ingredients down into the blade. I am very impressed that this blender comes with a 40-ounce glass jar. Glass jars are pretty rare these days - even among the performance blenders - but they tend to last longer.
Personally, a glass jar was one of the criteria I used when purchasing a blender. I wanted something powerful but I also didn't want to deal with plastic - even BPA free plastic - that might warp under high heat or crack. My glass jar has developed the tiniest crack in it but the glass is so thick that that crack has never broken through. I love the weight, I love the design, and I love the durability of glass. This jar even has a unique, no-mess pouring spout built into the lid.
I price compared this blender with many other retailers and you can see my price comparison below:
$46.99 @ Shop.ca
$52.49 @ Sears Canada
$54.97 @ Walmart Canada
Both the Walmart and the Sears blenders come with an extra attachment, so their prices are a little higher than I would expect for the base unit, which they do not sell alone. I am not sure whether the Amazon version comes with the chopper attachment... but I doubt it as it is not mentioned.
Reviews on this unit are terribly mixed. Many people say that the unit sucks at chopping but it is really good for pureeing and making smoothies. One reviewer at Sears said:
The Blender is great because the 5 cup glass pitcher is slightly shorter and wider and fits under the kitchen cupboard perfectly! It is great for pureed soups!
I do have to admit, I HATE that my blender does not fit under my kitchen cupboards very well. This shorter model is a nice bonus to me.
(Expiry: Unknown)