Groupon Canada: 85% Off 24-Pc Makeup Brush Set with Case - Now Just $22 (Shipping + Taxes Incl.)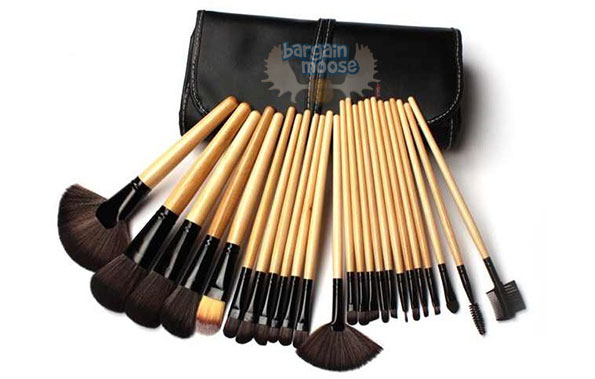 Want to save 85% on a 24-piece makeup brush set that also comes with a case? Then make sure to grab one on Groupon while supplies last. You can now get it for just $21.99 and it has a $149.99 value, which means that you will be saving $128. Quebec and Ontario only. Both shipping and taxes are already included in the price.
This makeup kit comes with each of the following brushes:
Large fan-shaped extra-powder brush
Large powder brush
Powder and blush brush
Large bevel contour brush
Foundation brush
Highlight brush
Large eye-shadow brush
Medium eye-shadow brush
Medium eye-shadow brush
Small eye-shadow brush
Medium eye-shadow brush
Nose shadow brush
Small eye-shadow brush
Medium eyebrow and eye-shadow brush
Small eye-shadow brush
Medium bevel eyebrow and eye-shadow brush
Concealer brush
Small fan-shaped extra-powder brush
Lip brush
Level eyebrow and eyeliner brush
Sponge eye-shadow brush
Eyebrow and eyelash comb
Eyelash brush
Fine eyeliner brush
As you can see in the picture above, it also comes with an imitation leather case. The cool part about it is that it can be rolled up, which means that this kit won't take up too much room wherever you put it.
If we break down the original price, each make-up brush comes down to just $6.25. With this deal, you're looking at paying just $0.92 -- wow, that's quite the price difference and totally appears to be worth it. Even if the makeup brushes don't end up being all their cracked up to be, then you can still rest assured that at least, you got a mega discount and I'm sure that most of these brushes will still come in handy.
I don't use very many make-up brushes at all because I'm always very reluctant to spend $20+ on each one, so this deal is definitely pretty cool.
According to the fine print, only a maximum of 4 brush sets can be ordered per person and this deal is also only available to Ontario and Quebec residents, which would also explain the free shipping and tax inclusion.
It's also only available while quantities last, so definitely don't miss your chance to get it!
(Expiry: Unknown)