Garage Canada: Printed Bandeau Only $3 & Free Shipping No Minimum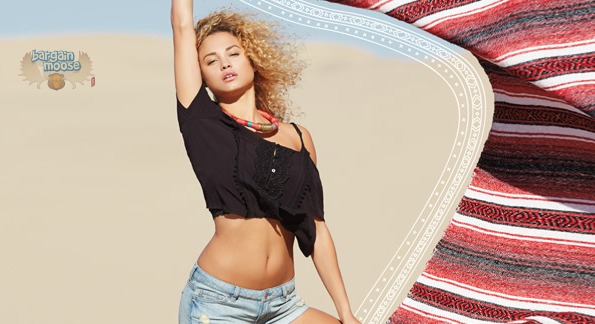 Your summer wardrobe could benefit from a little sprucing up: so why not purchase this discounted printed bandeau in white. Originally $9.90, the bandeau is on sale for $3. On top of that, Garage Canada is offering free shipping right now with no minimum required (usually there is a $50 minimum).
This is a cute little bandeau at a great price. The little bandeau fits like a second skin and can be layered underneath other tops or just worn alone on an especially hot day. The bandeau has a cute little floral print - it looks black to me but might be navy. There is a garage logo charm attached. The bandeau is still available in sizes extra-small through large. Only size large is sold out.
I really like this deal for three reasons. 1) The bandeau is 70% off its original price. 2) The bandeau alone qualifies for free shipping. 3) At only $3, the bandeau is an inexpensive way to add something new to your summer wardrobe.
Now, if you can spare an extra 50 cents, the Printed Bandeau (Blue Navy) is on sale from $9.90 down to $3.50 with free shipping. For gals that avoid white, this is an excellent alternative and still a very good deal. You will save 65% and still pay under $4 for a new top. While I like the white one because it would look amazing under tops of all covers, white is so hard to keep clean. Most likely, I would buy both bandeau tops - after all both would still only cost me $6.50. The blue bandeau is also available in sizes extra-small through large.

While perusing the website, I also found a bunch of t-shirts on sale for just $10 each. With free shipping and $10 tees, I thought this was a good sale as well. While I am not much for graphic or text-based t-shirts, the "California Love" Tee has a great length that would work well with my leggings. Originally $19.95, the tee is on sale for $10. I am somewhat obsessed with crop tops now that spring is here. This Button Front Cropped Ribbed Tee was $18.95 and is now $10. I like the top in black, which is still available in sizes extra-small through medium. What a great layering piece!
(Expiry: Unknown)