Garage Canada: 30% Off Backpacks + Free Shipping On All Orders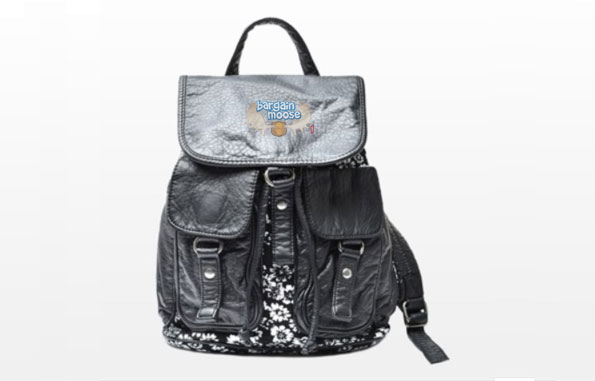 Just in time for back to school, Garage has a great discount on backpacks right now: you can save 30% off! Even better is that for another week, any order at Garage also qualifies for absolutely free shipping!
There are 6 relatively similar backpacks to choose from:
They're all black faux leather, with the exception of the denim one and the faux leather backpack. The former also comes in cognac (brown). The one pictured above is the floral one and it has two front pockets, a drawstring and not too surprisingly, is made from 50% cotton (most likely the flowery part). Garage's suggestion of how to wear this backpack is certainly also a very interesting one: "wear it to one of this summer's hottest music festivals with our strapless jumpsuit and a pair of round sunglasses." But then again, this backpack, as do the others, does indeed have a very laid-back kind of style. They're not designer bags, but they would, however, be perfect for students or anyone else for that matter, who is looking for a casual bag!
My top pick would definitely be the faux leather backpack in cognac as I have more than enough black handbags as it is, but I also like that it looks very roomy in a boho-kind of way. To give you an idea of size, the faux leather backpack, for instance, is 16" H x 13" H x 5" D. Another major plus is the amount of pockets that is has as there is 1 on each side, a large one on the front and even one on the flap. I'm one to always carry plenty of little things like hair ties, change and even candy, so a bit of organization is always much welcome!
They're also not all backpacks per se as the convertible faux leather zipper bag can either be worn as a backpack or cross-body. In fact, if you don't want to use it crossbody, then the strap is also removable. With more than enough pockets on the outside, it also has two patch pockets inside.
(Expiry: Unknown)