FurReal Friends Cuddles Only $19.97 & Free Shipping @ eBay Canada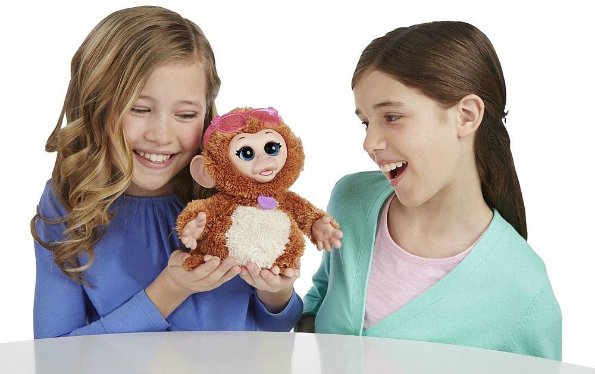 FurReal Friends were a big hit this last Christmas and continue to be a popular birthday gift. The FurReal Friends - Happy to See Me Pets - Cuddles, My Giggly Monkey Pet Plush is on sale from $34.99 down to $19.97. You will also receive free shipping on this plush toy from the Toys R Us Outlet on eBay Canada now.
This adorable monkey is ready to play with your kids! The plush Cuddles will wiggle and giggle when your children interact with her. Tickle her tummy and her head will bob while she giggles. This is a cute and super adorable little pet monkey that your child can cuddle, hug, and play with. She is super soft so your kids will enjoy hugging Cuddles.
Cuddles comes with a pair of sunglasses and a pet care guide. She does require batteries to operate - three "AA" batteries - and will come with demo batteries. Demo batteries don't usually have much charge so you will want to swap them out pretty soon after you receive cuddles.
This toy gets really great reviews on websites such as Toys R Us and Walmart.com. The only complaint I have seen about this cute little toy is that it doesn't do as much as people would like. One reviewer at Toys R Us said:
This is a great toy. It entertains my 3 year old and 1 year old. It is soft and cute. It doesn't do much but the giggling and movement keeps them laughing
The exact same FurReal Friends Happy to See Me Pets Baby Cuddles, My Giggly Monkey Pet is on clearance for $30 @ Walmart Canada so you know that this deal at eBay is the best. I am delighted that the toy is 42% off and includes free shipping. Toys R Us does not have this toy in stock and neither does Amazon Canada. This is one of the few places you can pick it up - and at such a great price too.
(Expiry: Unknown)