First Impressions Kids' Clothing Were $9 | Now $2.69 & Free Shipping @ Hudson's Bay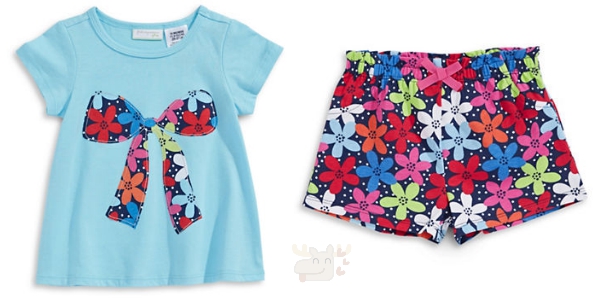 Right now you can pick up a selection of children's tops and bottoms for less than $3 apiece. Most of the pieces were $8.99 and are now just $2.69 but there are other pieces in the sale that are a bit more expensive. In addition, you will receive free shipping on any order with the coupon code SHIP making this a great time to flesh out your child's wardrobe. All sale clothing is shown through individual links below.
There are a couple tops in this sale but the majority of the deals are on bottoms. This Infant Girls Shopping Bunny Tee is on sale from $8.99 down to $2.69. Only one size is still left in this t-shirt so you may want to purchase the Big Floral Bow Tee instead as it still has three sizes left. Choose from 3-6 months, 18 months, or 24 months old.
Bottoms are more numerous in this sale. For boys, the Infant Boys Flatlock Seam Drawstring Shorts are a nice choice with plenty of sizes left in stock. These Drawstring Cotton Shorts are a lot like the above shorts, but in a different colour. For a more colourful option for the boys, these Plaid Drawstring Cotton Shorts are also available in whites/greens/blues.
For the girls, there are a few options. These Daisy Print Ruffle Shorts are the cutest things ever and in high demand as only size 18 months is left. Likewise, sizing is limited in these Ruffled Polka Dot Shorts. Next, these Ruffle Shorts come in all five sizes from 3 months up to 24 months old. I love the little ruffle along the leg hems. These would make great summer shorts.
I also wanted to do an honourable mentions list as there are some nice children's clothing deals out there. The Epic threads Girls 2 to 6 Front Pleat Shorts are on sale from $9.99 down to $2.99. First Impressions also has these Knit Drawstring Shorts and these Infant Boys Plaid Drawstring Shorts starting at just $3.59 each.
I also wanted to mention this Ladybug Flutter Bodysuit that was $12.99 and is now $3.89. While not 'under $3', it is a fantastic price for a little girl's bodysuit.
With children's clothing under $3 and free shipping with coupon code, you cannot go wrong with this sale.
(Expiry: Unknown)