eskincarestore Canada: 'Free' Shipping and Up to 50% off Fall Collection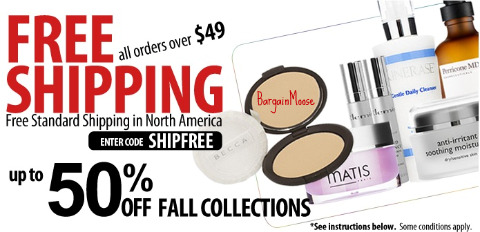 So though this is not technically 'free shipping' this is a great deal better than their usual offer.
Usually for eskincarestore Canada you have to order $200 worth of product to get free shipping! That is ridiculous in my opinion! They have now released a coupon code that will give you free shipping on purchases of $49+. That is a huge difference so I felt it warranted posting.
Discount: Free shipping on $49+
Coupon Code: SHIPFREE
Expires: ?
It says *some conditions apply but try as I might I can't find the conditions. You do have to select standard shipping.
So THAT is of note.
Also of note is that many of their 'fall collections' are discounted up to 50% off. So if you are shopping around on eskincarestore check out THIS LINK RIGHT HERE for some quite decent discounts. Just think, you can spend a reasonable amount of money on products ($50) and get free shipping this time. No $200. Fabulous. I find eskincarestore does have better prices than a lot of places for a few of the products I have price compared, so worth taking a look at.