Dynamite Clothing: Rompers Were $45 | Now $15 & Free Shipping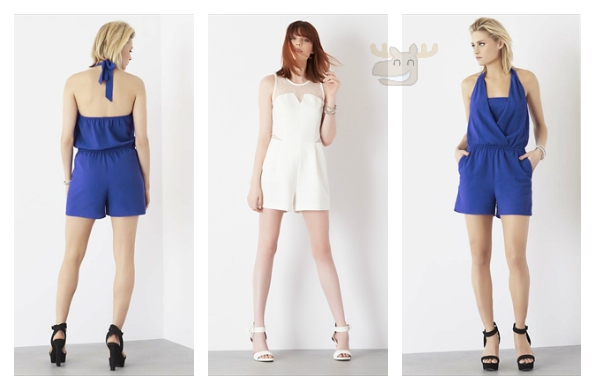 Dynamite Canada has discounted a few adorable one-piece rompers from $44.95 down to just $15 each with free shipping. If you are looking for a simple summer outfit and wish to deviate from a dress, then add a romper to your wardrobe. Both the Halter-Neck Romper and the Romper with Lace Cutouts are on sale.
The halter neck romper has a great fit and a fun design. It is exactly what your wardrobe needs this summer. You can really pair these rompers with anything: sandals and a few bangle bracelets will dress the romper for casual everyday wear. Wear it with strappy heels, big earrings, and bold lipstick for a night on the town. According to Dynamite this romper runs large so you should size down. Happily, sizes extra-small, small, and medium are still in stock to accommodate that. This romper is a beautiful blue and has a gorgeous layered look: it does not look like you are wearing one-piece!

One reviewer said:
I've worn this a few times already - the colour is fantastic - love the deep pockets. Only trick is if you need to use the washroom (!) so I recommend wearing at least a bra. I was hoping it would be good for camping and goes well with a halter bikini top.
Next, the romper with lace cutouts is a beautiful white piece that some girls are wearing to their bachelorette parties! The romper has an exposed back, lace cut outs around the waist, lace cut out at near the neck, and a flattering fit. Out of the two styles, this romper is my favourite. It has a ton of sex appeal and I adore the lace accents.
One reviewer said:
Great deal on sale! Fits a regular Dynamite XS quite well, not loose around the waist like a lot of rompers. Just need to keep in mind to wear a non-full coverage bra.
If neither of these rompers do it for you, then click here to view the rest of the sale rompers. There are a couple rompers on sale for $25 to $28 (from $45).
I am not sure when the Dynamite free shipping offer will expire as it was technically already supposed to be ended. However, as of now it still works.
(Expiry: Unknown)