$240 After Save $110 - Canon PowerShot D30 12.1 MP Camera @ The Source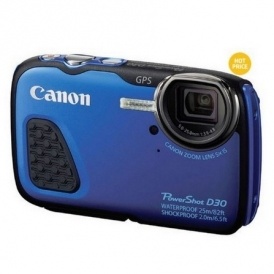 Ever since purchasing my first digital camera many years ago, which was a Canon, I have loved the quality of the brand. Since then in my family, we have tried 3 other competitor brands over the years and were surprised to see that the quality in those brands wasn't nearly as efficient as the high caliber that Canon cameras offer. I am still working with an older model Canon Elph that is a 12.1 MP camera, and have never seen any reason to change over to anything else. Until now, that is!
This Canon PowerShot D30 12.1MP Waterproof Camera in a rich blue colour, is currently on sale for $110 off! The sale price is $239.99 and the regular price is listed as $349.99. To compare prices with the competition, I noticed that Best Buy has the same model on sale (including shipping) for $299.99, down from $399.99 and Amazon.ca has theirs listed at $258. 41 including shipping. It's clear it is a solid price on a decent camera.
Of course, one of the main selling points is, it's waterproof; but besides that, the Canon PowerShot D30 12.1MP Camera features a 12.1MP CMOS sensor with a 5x optical zoom and 4x digital zoom. There are 32 predefined shooting situations that automatically change as needed, based on your surroundings!
The LCD display is 3.0" to see the shots you've take that are so clear, because there is image stabilization, face detection, smile detection and red-eye correction, for the perfect shots! The video is high def, it can shoot 1080p video at 24 fps. The battery is a proprietary rechargeable Li-Ion battery.
Any dad would love knowing he will be getting one of these for Father's Day! (You could order today, and tell him it's on it's way soon.)
Shipping: The Source offers free shipping on orders over $25, or there is a free in-store pick up option where you may pick up your order in-store at a location convenient to you, where it is usually available for pickup within 3-4 business days.

(Deal expiry: June 30, 2016)