Disney Princess Vehicle Was $23 | Now $15 & Free Shipping @ Walmart.ca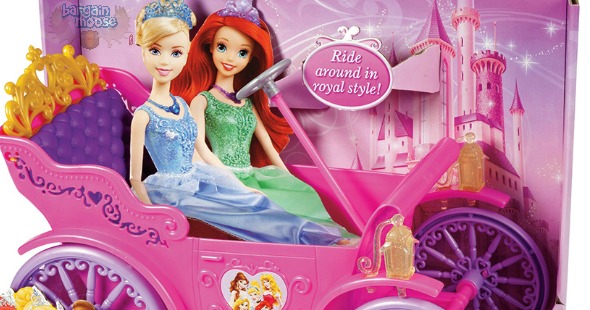 Your little princess deserves the best. Right now you can shop at Walmart.ca and get the Disney Princess Vehicle for just $15, instead of the original price which was $22.97. You will also get free shipping with no minimum purchase.
If your little girl received some Disney dolls or Barbies for Christmas this year, then it's about time they ride in style. While supplies last, you can shop at Walmart Canada online and get the Disney Princess Vehicle for just $15. If your little one prefers Disney Sofia the First, you can get the Disney Sofia the First Royal Coach for just $15 as well. This Disney Sofia the First Royal Coach also comes with the Pegasus. Every little girl loves unicorns and ponies.
I realize that Amazon.ca inflates their original prices to make their sales seem better, but their price tag on this Disney Princess Royal Car blew me away. For a comparison, this Disney Princess Vehicle is $44.20 @ Amazon.ca. 
There are a few excellent reviews for this product on the Walmart Canada website. One of the reviews reads:
I bought this Disney Princess Vehicle for my granddaughter's birthday last January. I also bought her pink Barbie shoes so she can match while driving her dolls around. Can you imagine that I only paid $25 for both? The price is right and the car is sturdy. The vehicle is pretty in pink, yet designed after the Model T. This is what a princess child would want to drive her dollies around in.
If I had a little girl in the household I would definitely purchase this. I remember driving my dwarf hamsters around in a similar vehicle when I was a little girl. I imagine the hamsters did not find it as entertaining as I did. No animals were harmed for my enjoyment though. Why not give your little girl the enjoyment of driving her dolls (or the family cat) around in this stylish and pink vehicle.
One of the best aspects of shopping at Walmart Canada online, is you get free standard shipping with no minimum purchase. You can quite literally spend as little as $0.01 and have your shipping included. This also works great if you are ordering large items like furniture or TVs. Not only is the shipping free, but it is also fast. You can expect to have your purchase delivered within just a few business days.
(Expiry: Unknown)