Design by Humans: Free Worldwide Shipping & 20% Discount! (TODAY ONLY) (EXPIRED)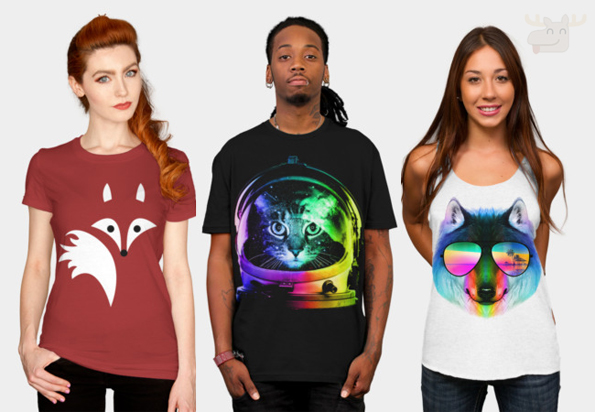 I've just discovered an amazing t-shirt site which has been around for a while, but we've never mentioned them here on Bargainmoose before! Design by Humans is a US based site, and they sell all manner of amazing clothing; from ladies tank tops to mens hoodies. If you sign up for their email newsletters, you will get a free 20% coupon code to use on your next order. And with free international shipping on all apparel orders for the rest of TODAY, they are definitely worth a look.
There is an email signup box at the bottom right hand side of their site. When I added my email in there, it took about one minute to receive a free coupon code for a 20% discount (it's in this format W2S6I-4Q784). I was able to enter the coupon code on the last page of checkout – just after the credit card or paypal details. You can input the coupon code and review the final order price before you click, "place your order."
Mystery Tees
It looks like they have a bargain on their Mystery Tees here - only $7.20 post-coupon! You'll probably get a random t-shirt in the size you choose. I'd like to try that.
Best-Selling Kids Tees
I'll start of the product showcase by highlighting a few of the bestsellers in the kid's range. These are so cute! Check out:
(All prices are post-coupon)
My Favourite Women's Tee
I had a quick scan, and my pick is this Seasick Symphony for $19.20!
Shipping, Duties, Taxes, Etc
As most of us here know, any order of $20 or more may be subject to additional fees as it crosses the Canadian border. I would recommend keeping your order small – as they come with free shipping anyway. If you want to order multiple items, just make multiple orders. This will mean that there's less chance of your packages getting stopped by customs and any additional fees at your door. And to get 20% discount on each order, just use a throwaway email such as 10minutemail to get new coupon codes each time.
If you do place an order, please let us know how it goes in the comments below!
(Expires: 25th August 2015?)