Dell Canada: Wireless Laser Mouse Was $45 | Now $30 & Free Shipping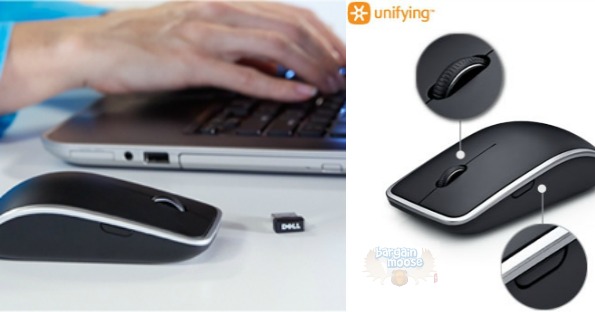 Dell Canada has the Dell WM514 Wireless Laser Mouse on sale from $44.99 down to $29.99 with free shipping.
With a wireless mouse, you reduce cable clutter around your desk. While I currently use a wired mouse (it is what I own), the wires constantly drive me crazy as my mouse runs into them. I also have accidentally sent my mouse flying a few times when I forgot to unplug the USB port when moving my computer. I have done that so many times. My next purchase will be a wireless mouse.
Like other Dell mice, the WM514 has the Dell Unifying software so you can manage up to six other peripheral devices (like keyboard, number pads, and other mice) all through one nano-USB receiver. This is very useful technology for those with limited USB ports on their computer. My gaming computer only has three USB ports and they are often completely full with mice, the charging cable for my phone, and more.
The mouse also is Microsoft Windows 8 compatible. With Windows 8 gesture controls, you can scroll up, down, left or right with the mouse wheel. This helps you navigate Windows 8 tiles. The side buttons will access the Windows 8 charms bar. The mouse can also function perfectly 'normal' with other operating systems.
The reviews for this mouse are very positive. It ranks a solid 4.5/5 stars with over 20 reviews. One reviewer said:
I am very pleased with this product. It is easy to use, has a good structure, and I love that it turns off when not in use. I am definitely not a savy tech person so I was pleased that nothing about it was complicated. I love my new laptop and mouse. Life is good :)
Overall, this is a good size, well-shaped, reliable Dell wireless mouse. While I have seen some cheaper mice, this mouse provides full features for Windows 8 and can be used on almost any surface. The Dell unifying software is a very nice bonus that is becoming standard on all their devices it seems.
If you own this mouse then please drop us a line and tell us what you think of it.
(Expiry: 2nd April 2015)