Dell Canada: Sony SRSX2R Wireless Speaker Was $100 | Now $70 & Free Shipping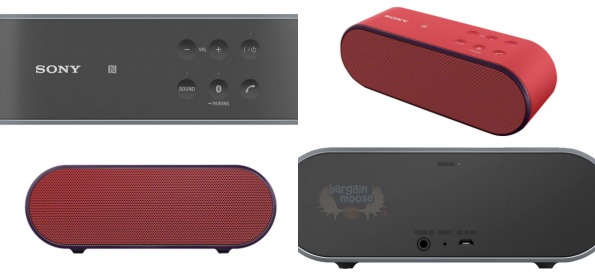 Dell Canada's Spring Clearance Event is in full swing right now. In the sale, I found the Sony SRSX2R Wireless Speaker on sale from $99.99 down to $69.99 with free shipping.
Price comparing showed that this speaker is on sale at several other places. However, none of the other retailers match Dell Canada's price.
$76.99 @ PC Canada (one left)
$78 @ Walmart Canada
$79.99 @ Best Buy Canada
$79.99 @ Sony Store Canada
$99 @ NCIX.com
As you can see, Dell Canada's price even beats the manufacturers' own sale price. There is also an added bonus when you shop at Dell Canada. Not only do you receive free shipping on any order, you also receive 5% back on a Dell gift card when you sign up for the Dell Advantage (free sign up). That might not seem like much, but that 'saves' you an extra $3.50 on this unit alone.
I am a fan of Sony Wireless speakers ever since I bought one of the big brothers to this unit - the SRS-X5. I think they are a very strong sounding line of speakers at an excellent price. I am not alone in this opinion: reviews on Best Buy have given the SRSX2R speaker a 4.5/5 rating so far. One reviewer said:
While this can not compete with the bigger speakers in terms of volume, the sound clarity and fidelity is among the best. Base is less pronounced than in the Bose SoundLink Mini, but the overall sound is also more musical and less muddy. It does get pretty loud if needed - with no or very little distortion at the top end.
I was surprised that this little speaker can even compete with the Bose Soundlink Mini, but this reviewer thinks it sounds clearer. Certainly, for the price, you cannot go wrong with this unit. Expect five hours of playtime from the Sony SRSX2R wireless speaker. The speaker includes an AC adapter for charging. Pair the speaker to your ph0one via Bluetooth. This speaker also can be used for hands-free calls with ClearAudio+.
While the battery life is a bit short for my liking, it does seem like a solid unit that comes in two fantastic colours. Black is great if you want the speaker to blend in and red is fantastic for those who want to stand out.
(Expiry: Unknown)