Dell Canada: Panasonic Eneloop Charger & 12 Batteries Only $30 *BUMP!* (EXPIRED)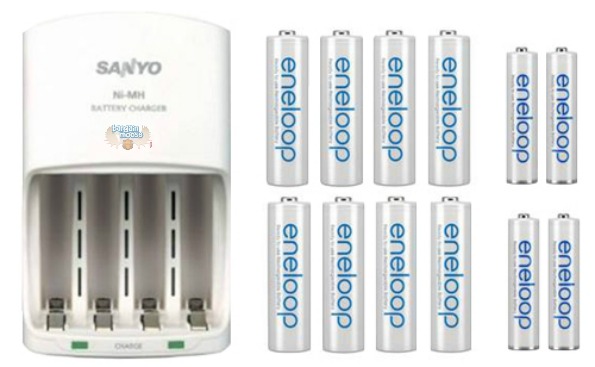 Dell Canada is having a huge 72-hour sale on right now and one of the best deals I found was on the Panasonic Eneloop charger kit with eight AA batteries and four AAA batteries. It is now selling for $29.99, with a regular price of $46.99, saving you a whopping $20 on this item.
Rechargeable batteries are notoriously expensive, mainly because they last so much longer than regular batteries. They are definitely a good investment, it is just the investing part that hurts at first. So, when deals like this come along with a charger and all these batteries, you really do need to jump at the opportunity.
I've read a bit about Eneloop and how the batteries last for a long time. People absolutely love Eneloop batteries! If you want to know why they are so good, read this article from the Wire Cutter, which explains why they are the best. As for price comparisons, I looked around and found a pack of four AAs at Amazon for $19.78 on sale (this price has increased from the time when I wrote this original post last year too!). You are only paying $5 more for eight extra batteries and a charger.
I'm sure we all have many devices for which we need rechargeable batteries, like television converters, kid's LeapPads, digital cameras and so much more.
As another perk, you'll get free shipping with any order from Dell.
(Expiry: Unknown)