Davids Tea: Up to 50% off Tea & Free Shipping No Minimum & Free Gift with $75+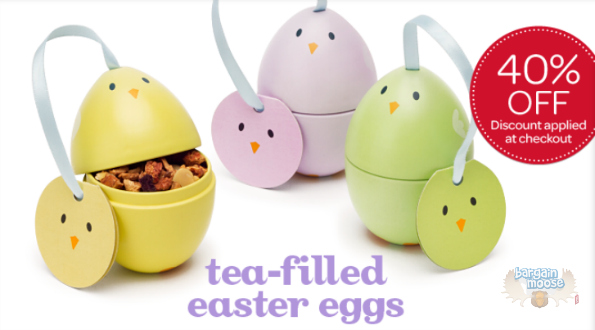 Davids Tea currently has a trifecta of deals on right now. The sale section is loaded with tea and accessories that are up to 50% off. For three days only, Davids Tea is offering free shipping with no minimum (normal minimum of $50). In addition, Davids Tea is giving away the Energizing Collection, worth $19, for free with purchases of $75 or more. You will need to use coupon code GIFTFORMOM for the free tea collection.
Davids Tea is my local tea supplier. I have a drawer positively full of Davids Tea with three new teas added to it just this week. Now, the last time Davids Tea had a free shipping promotion, my partner loaded up on Sleigh Ride Tea. This is a fruity tea with pops of apple and cinnamon for warming on cold evenings. Originally $37.50 for 250g, the tea comes down to just $22.50 with free shipping in your cart.
Now, the holiday teas have been in the Davids Tea sale section for a bit. However, there are a few new Easter packs just waiting to be found. The Easter Gift Basket comes with Tea Filled Eggs (60g), Easter Sweets (220g), and 100 filters. The three teas included are:
Forever Nuts
Chocolate Macaroon
Read my Lips
I like both Forever Nuts and Read my Lips. However, this is the first time I have heard of Chocolate Macaroon - I am dying to try it! I love both chocolate and coconut. Originally $30, this tea and treat set is now on sale for $18 with free shipping.
Now, if you do not want the sweets, just buy the Tea Filled Easter Eggs separately. That is what I am going to do, as I just need to try the Chocolate Macaroon tea. Just the tea-filled eggs retail for $15, but they come down to $9 (for 60g) with free shipping in your cart. These eggs include the same tea as the above eggs.
Now, if you do end up spending $75 or more, then you will receive a free Energizing Collection. Do NOT add the Energizing Collection to your cart as it will be added with the coupon code at checkout. I find if you add $75 worth of sale items to your cart, then the coupon, then remove some items... you can pay less than $75 and still get the free item (I think this is a glitch - see below).

There are three free tea samples with every order. I received Forever Nuts, Organic Pure Chai, and Lime Gelato last time we ordered tea online.
(Expiry: 24th April 2015)