Curiosity Box Coupon Code: Get $10 Off a 3 Month Sub!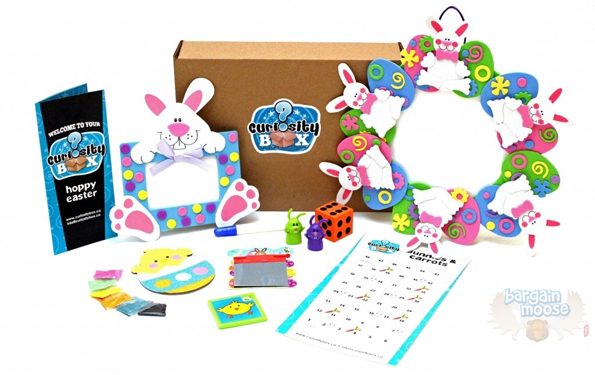 The Curiosity Box is a subscription box service which sends you a monthly parcel of crafts and activities, with the aim of stimulating curious young minds of between the ages three and seven. We've mentioned them here on Bargainmoose before, but we've just spotted a new coupon code which can save you a few bucks on your order.
Click here to use the Curiosity Box coupon code online
Coupon Code: SUMMER
Discount: $10 off a 3 month subscription
Expires: 15th May 2015
As you can see, if you take out a three month subscription, you will save $10 when you apply this coupon code. A subscription will cost $77.85, so this means you are getting it at the reduced price of $67.85, as well as free shipping each month. If you have more than one child in your house, you can get a sibling add-on for an extra $11.95 per month.
Signing up now means you will get your first box through to your home in June 2015, at which point you can start crafting. Here's a bit of a blurb about the service:
Each month, receive a fun filled box of crafts and activities delivered right to your door! The theme will change monthly depending on the current holidays or events...that's the curious part of receiving a subscription!
Eva actually tried out the Curiosity box with her kids when she first wrote about this company, a few months ago here. If you have more than one kid in the house, Eva recommends that you get the sibling add-on… it will save fights and sibling rivalry!
Stocking Up Tip
Order the boxes now and save them up, don't use them all right away. Put the Curiosity Boxes in a cupboard for a rainy day… when the kids are whining about their ongoing boredom and inability to self-entertain. You'll get a couple hours of fun out of the Curiosity Boxes that you have stashed away. I did this when I took out a similar subscription box in the past, it was very useful indeed.